For some, 2022 was a year they would rather forget. For others, like Blackmagic Design and its video tools, it was a very good year indeed.
In April at NAB 2022, the company rolled out Resolve 18 with multi-user collaboration, new AI tools enabling magic mask, voice isolation, and dialog leveling. The new Resolve 18 has further integrated its software tools, including compositing with Fusion and audio tools in Fairlight. For many, the biggest news has been cloud support for Resolve workflows, with new hardware accessories including network storage. Fusion 18 also got new proxy generation capabilities to grease the path of content traveling up and down and through video pathways. DaVinci Resolve is available in two versions: free and DaVinci Resolve Studio for $295.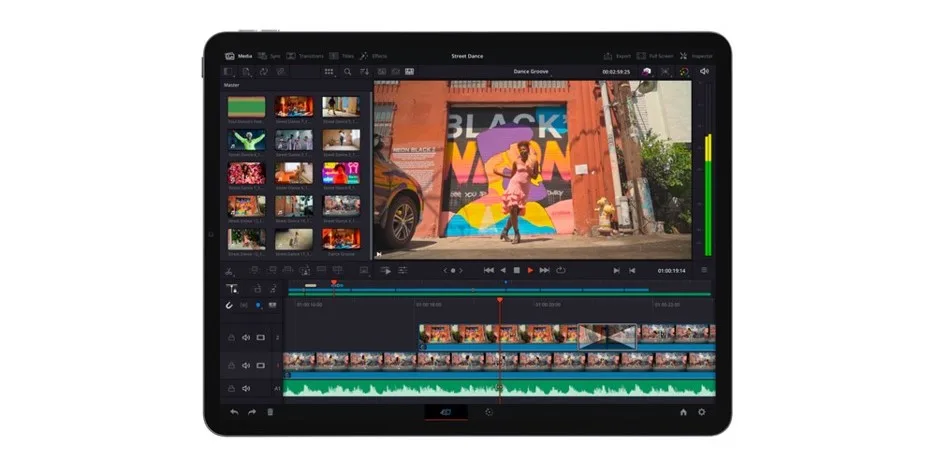 Those pathways have further expanded with the introduction of DaVinci Resolve for iPad. The announcement this past fall was big news for the industry, whose users got an early holiday gift when Blackmagic made the software available for free download from the Apple iOS App Store. What you get are the same color-correction and editing tools you are familiar with and the features packed into DaVinci Resolve 18,  albeit on the iPad.
The cut page in DaVinci Resolve for iPad has features such as source tape for visual media browsing, fast review, and smart editing tools to turn projects around faster. Also, the sync bin and source overwrite tools enable fast edits for multi-cam projects with synchronized cutaways. Blackmagic Design has made the DaVinci Resolve for iPad color page, an advanced color corrector, more approachable for new users. The primary control sliders are recognizable for those who have used image editing software, making it easy to adjust contrast, temperature, midtone detail, saturation, and so forth. The color page also has a range of primary and secondary color-grading features such as PowerWindows, qualifiers, 3D tracker, advanced HDR grading, etc.
In addition, AI processing powered by the DaVinci Neural Engine streamlines certain capabilities, creating quick, accurate results. For example, magic mask can locate and track people, features, and objects in a shot via a single stroke. Smart reframe repurposes footage for different aspect ratios while maintaining focus on the important elements in the shot. Voice isolation lets users remove loud, undesirable sounds from interviews and dialog recordings from noisy locations.
Resolve for iPad also brings Apple features into the software, supporting Apple Pencil and its multi-touch capability. The new DaVinci Resolve for iPad is based on the same codebase as the desktop product and is optimized for the iPad Pro with M1 and M2 chips. DaVinci Resolve Studio on the iPad is available for $95.
Perhaps the biggest gift of all is that DaVinci Resolve 18 files will work across devices—the desktop and the iPad Pro—via the iPad Pro's internal storage or in iCloud, and USB-C drives that can be imported to desktops. It supports H.264, H.265, Apple ProRes, and Blackmagic RAW formats.
Blackmagic revealed its plans for the iPad with Apple's introduction of the M2-based iPads in October 2022. At that time, the company promised iPad customers a free version of DaVinci Resolve as well as its premium DaVinci Resolve Studio for $95.