New MMO suffers all the plagues of a new game not to mention schadenfreude

.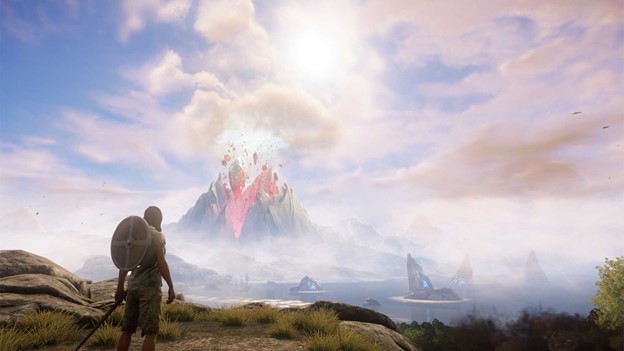 Dinner out with a young friend who asks, is Amazon still bricking GPUs? Er, what?
The gamers among you probably know all about this. Amazon's new MMO New World, a Windows game introduced last summer, had all the earmarks of a huge hit. First of all, it's beautiful, enables multi-levels of participation, and with the power of Amazon behind it, the population zoomed up to almost a million immediately. The game includes several different environments with their own features and hazards, great graphics, community, crafting, and a freewheeling economic system along the lines of the beloved Eve Online.
So, back to that bricking thing. The game draws heavily on the graphics processor and that's one source of the problem.
The minimum requirements are high:
Windows 10 64-bit
Intel Core i7-2600K/AMD Ryzen 5 1400
16GB RAM
Nvidia GeForce GTX 970 or AMD Radeon R9 390X
DirectX 12
50 GB Hard Drive
Obviously, it needs a broadband connection and Amazon requires a Steam account.
There are very good reasons for not cheaping-out. Gamers were reporting that their RTX 3090 GPU boards were getting fried. The news was pretty hard on New World purchases as you might imagine. People were hesitant to risk their gear. By September, the gaming sites reported a loss of 500K gamers or so.
As it turns out, the worst-case situations were being caused by some boards with manufacturing deficiencies. Amazon said that in their testing they saw no reason that game would harm graphics boards. Among the manufacturers, EVGA stepped up and admitted some boards could be at fault and promptly replaced them.
The issue has probably done a service for gamers, especially the enthusiastic over-clockers. While there were problem boards, the game does push the graphics system. Blogger Dominic Ng reports that in his gameplay on a system with an AMD Radeon 6900 XT, he's seen big power surges. He credits the stability of his system and the AMD board for the fact he's had no serious problems, but he says he's seen power spikes of up to 480–500 w causing the game to freeze.
Ng argues that just because the cause of the initial board failures has been identified, does not mean Amazon is out of the woods. He points out in his blog comments that power spikes are not good for the system's longevity, and he notes that over-enthusiastic-over-clockers could run into big problems down the line.
More recently, Amazon has had additional problems. There are complaints that Bots are allowed to roam freely in the game with little moderation. There are reports of unkillable players. And most recently, a server update resulted in players being showered with gold, which sounds kind of nice, actually.
More problematic, a recent update has tweaked the end game portion of New World making it a lot harder, more grinding. Many gamers aren't thrilled with that and worse, the challenging end game works against solo gamers. Many are finding they just can't do it on their own and that limits the flow of new players into the universe.
For now, it looks like Amazon has got some work to do to stabilize New World, it's a big bet for a home-grown game and a potential challenger to mighty Fortnite.
Amazon's high profile makes it an easy target for haters. There is a rush to judgment brought on by its high profile and the frantic posting by sites trying to gather visits and likes. As a result, Amazon is not allowed to hammer out its problems in private. Any big MMO that doesn't happen to be Fortnite takes time to find its base and to nurture what it's getting right and prune the dead ends. There is plenty of hope left for the game.
What do we think?
Poor Amazon—two words that never go together. Its adventures in game development have gone awry time and time again. Amazon Game Studios announced the development of New World, Breakaway, and Crucible in 2016. Of those, Breakaway and Crucible have fallen by the wayside. Some critics on the sideline have pronounced Amazon incapable of game development because it's too big and too rich.
There may be some truth in that. New World clearly has its problems, but there is still a core of loyal gamers who passionately defend the game. Check out the blogs, the forums, the lively Reddit threads. The battles are pretty fierce. It may be up to Amazon to win or lose. New World needs attention right now, a lot of attention. Amazon has jettisoned other titles in favor of New World so it's not likely they'll bail out early. There's still plenty to win if Amazon sticks with New World, and frankly, it's probably can't lose much more.