Dassault's 3DExperience platform is designed to accommodate the whole Solidworks community and provide a fertile field for further development as new technology becomes available. At the 3DExperience Conference 2020 the buzz words included additive manufacturing, AI/ML, AR/VR, cryptocurrency, and blockchain.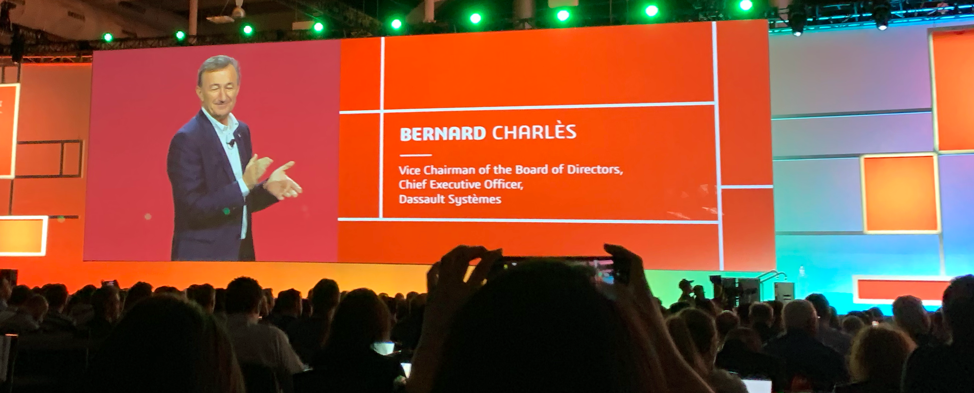 Dassault is reaching the home stretch of a  very long journey. At least 10 years ago, Dassault pledged to bring the once very separate worlds of its two major design products Catia and SolidWorks together. At the time there was quite a bit of drama around the idea. And the drama has continued as the company has been busy hammering and sawing away at the underlying infrastructure and providing gorgeous pictures of a grand new future. Last year, Dassault announced that Solidworks World would become 3DExperience World and the conference coming to Nashville in 2020 would expand to focus on Dassault's other products in addition to Solidworks.
This year, Delmia, Dassault's manufacturing product group got some of the spotlight. With the acquisition of IQMS, Dassault has expanded Delmia to include ERP so the company showed off those new tools in a separate keynote. However, it's safe to say that the vast majority of the crowd that came, came for Solidworks and that crowd was a little less vast than it has been in the past. Almost as soon as Dassault announced the name change for 3DExperience, there was speculation that Solidworks users would stay home but it's unlikely there's any one answer why attendance is down. Some may have decided to wait and see how this year's conference went, but also, Nashville is not a big draw, especially in the winter-time, and especially during flu season and most especially when there's also a scary virus from Asia making an appearance. At the same time that the 3DExperience conference was kicking off, officials in Barcelona were throwing in the towel on the Mobile World Congress due to open on February 24.
At this year's conference, Gian Paolo Bassi, Dassault CEO of the Solidworks family of products announced new product packages for SolidWorks users and further explained the Dassault 3DExperience platform strategy, a theme that has been central to Dassault's pitch for several years now.
At the conference, Bassi showed the lineup for products that will be included in the first offers, which will officially launch in the summer of 2020.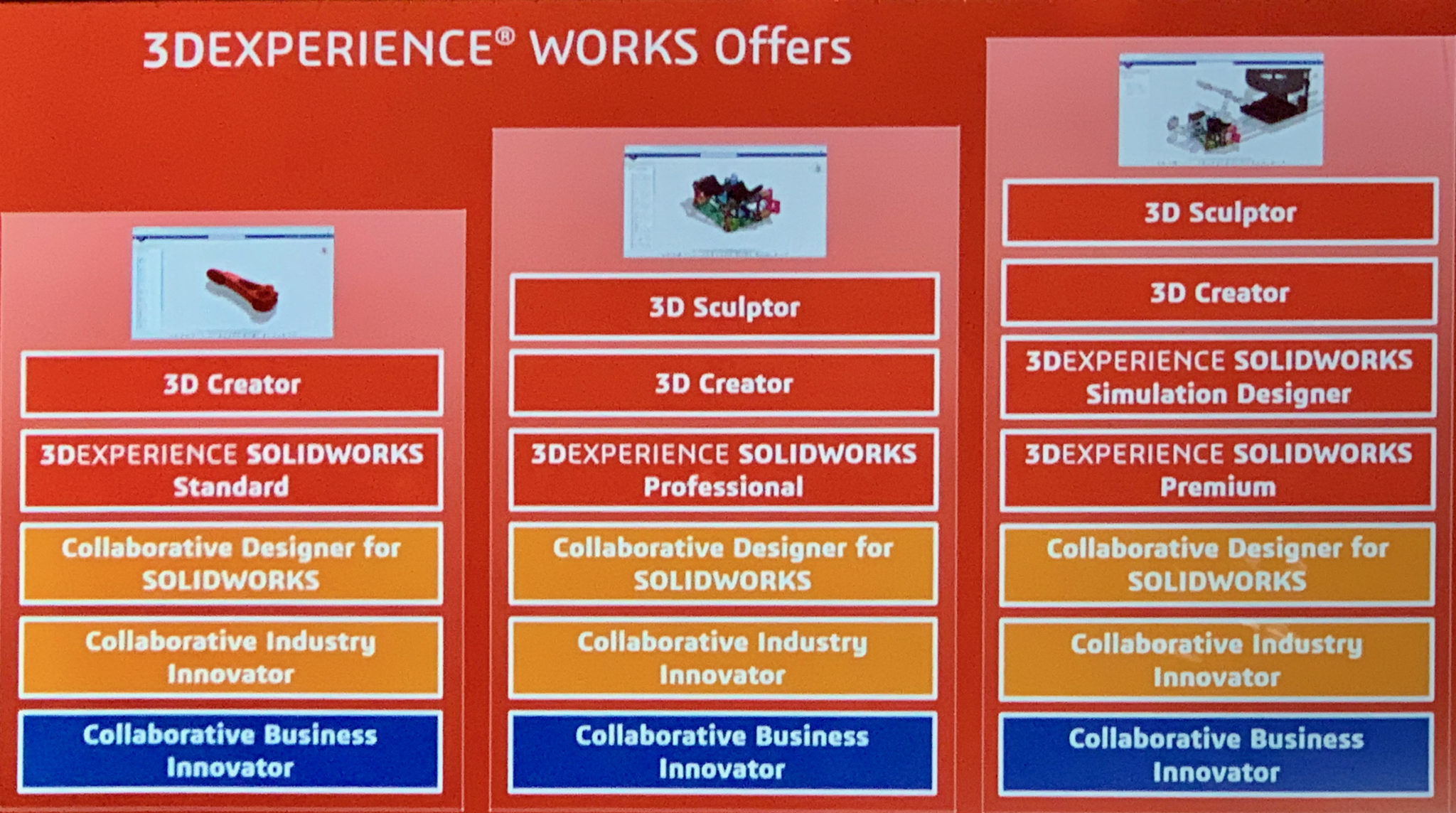 What these are, of course, are subscription packages and they are part of Dassault's long march to cloud workflows and a connected ecosystem, which Dassault calls a platform. Pricing was not provided, but the company says that customers will be able to access the new subscription packages for slightly less than the price they are paying for their Solidworks tools and they'll have access to the additional tools in the package including data management, collaboration, and marketing tools. Dassault plans to create a continuum of apps available to customers that can be accessed from within their home product, Solidworks, but that will eventually link Dassault's worlds built around Solidworks and Catia.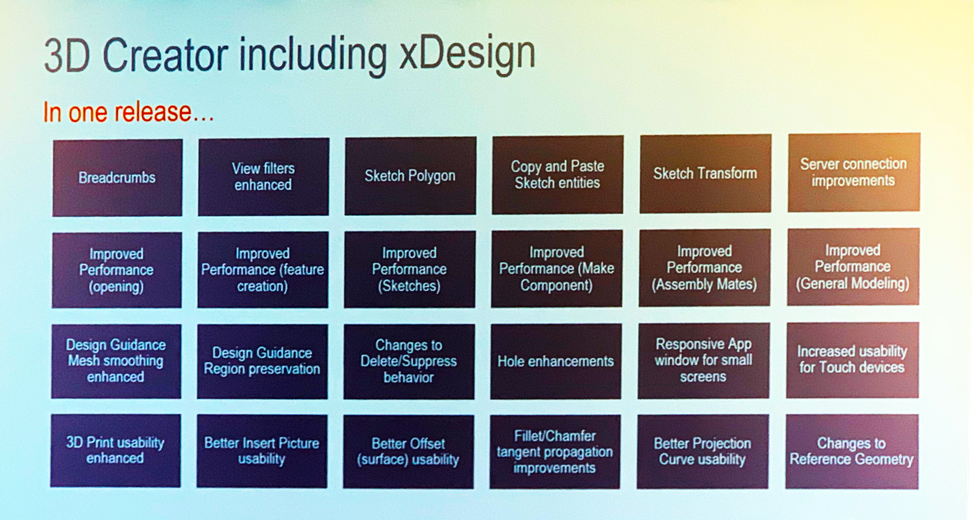 All the new packages offer access to 3D Creator an online design tool built on XDesign. It has advanced features including design guidance and design assistance—tools that are able to offer logical next steps to users. The Solidworks developers promise more AI/ML enhancements to come. In his speech, Bassi called these improvements that enable the software to respond in logical and expected ways "little delighters."
In addition, the packages add collaboration and market data. If customers step up to Professional or Premium levels, they'll also get 3D Sculptor with XShape surface modeling. Premium subscribers will get Simulation as well.
The 3DExperience Works provides a launchpad for new products and new capabilities and also a gateway from Solidworks to other products in the Dassault portfolio. Bassi says that the goal is to let users access everything they need from the 3DExperience Works platform and pay for what they use. However, the company is not ready to provide hard details about how the mechanics of all this will actually work out. That information will be revealed closer to the launch date.
The 3DExperience platform also has room for partners and third-party developers. Probably obviously, Dassault is looking for partners who complement Dassault's own portfolio. As part of this work, the 3D Marketplace has been coming together for a few years and will be available for customers on the 3DExperience platform who are looking for manufacturers, 3D printing services, and other services. At 3DExperience World 2020, Xometry was announced introduced as a "prime partner" that will provide manufacturing services. Xometry allows customers to request quotes for manufacturing from within Solidworks and Catia.
One of the most important messages that the Solidworks team wants to communicate for 2020 is that customers will not be forced into subscribing, but also they are not going to lose anything by opting for the new subscription packages. Instead, they'll be gaining data management, product intelligence, and the option to use new tools.
What do we think?
Dassault is really doing some heavy lifting and it's been fascinating to watch their progress. They've taken a slow and steady course, which is wise but along the way they've also changed the way these products are developed and marketed. For instance, XDesign and XShape were offered as standalone cloud-based products for design and surfacing. In the fall of 2019, Dassault started to transition the tools to the 3DExperience platform.
Now, the company is grouping tools within user roles and then they'll build apps within those roles. 3DCreator and 3DSculptor are roles; XDesign and XShape are apps that are available within roles. The company says users can also expect to see 3D SheetMetal Creator coming later in 2020 and more apps are on the way. No one would call this transition seamless.
Sooner or later Dassault will have to flip a switch to ensure everyone is on the same platform. As long as the company allows people to stay where they are and not adopt subscription, they won't. Things will look pretty similar from the outside for a while. The company won't make a move until it has enough momentum to pull the user base up to the platform. The whole subscription thing with regular updates and a portfolio of compatible tools needs everyone to be on the same page, no, make that, platform.
Read more: