Vendors are experimenting with new input designs to enhance digital workflows. 
As expected, 2016 is turning out to be a watershed year for workstations. New models are coming out based on the newest processors on the market today and they'll be upgraded with new processors coming for 2017, but several new trends are emerging that are testaments to the rich opportunity represented by professional level machines.
As Alex Herrera notes in his report, the workstation market has been very rewarding for the vendors who have invested in the market and their customers. Compared to the consumer market, which is seeing lengthening purchase cycles and evaporating margins, the workstation market is stable and rewards innovation.
In the latest workstation report published by JPR, Herrera reports the third quarter of 2016 was record breaking with over 1.135 million units shipped. The market grew 9.3% year-over-year. Compare that to the PC market which has seen steady decline.
Workstations have a distinct ecosystem of specialized components including CPUs from Intel, graphics processors and add-in boards from Nvidia and AMD, power supplies, memory, and hard drives.
There are fascinating changes to the traditional workstation input that have been inspired in part by the long slow arrival of Microsoft's Surface Studio Display technology and abetted by forward-looking configurations like zSpace's perpendicular screens to create a holographic effect (HP has a branded zSpace product in the zVR), and the HP Sprout's combination of scanning and computer. Most recently Microsoft unveiled its Studio Surface Display, which is actually an all-in-one computer for artists and designers that lies flat or tilted to enhance pen input. It includes a peripheral dial to allow context change, menu inputs without leaving the drawing space.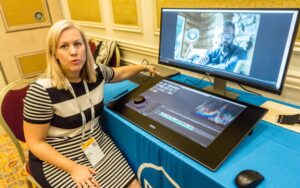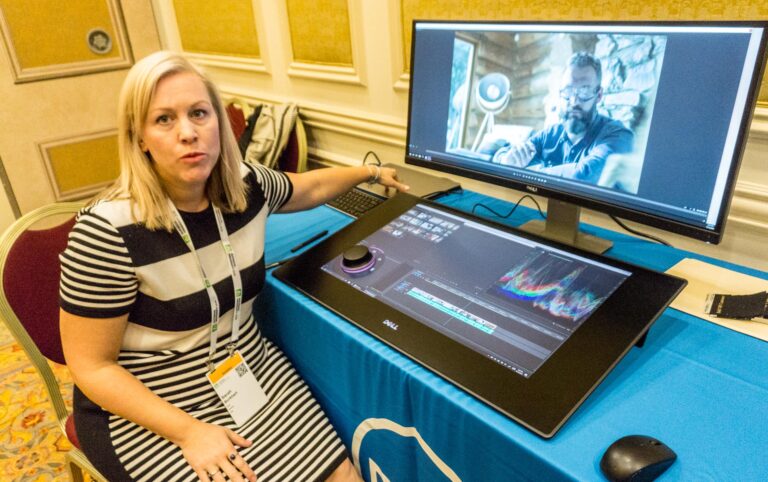 Meanwhile, Dell is whispering about its Smart Desk which will be officially demonstrated at CES this year. The company showed it at Autodesk University. Dell is taking a slightly different approach to Microsoft's life-flat all-in-one Surface Studio in that it's adding a touch monitor to sit horizontally to the computer screen and act as a drawing board. Dell has developed its own dial-like peripheral, which is not exactly like Microsoft's but the philosophy is similar. Sarah Burkhart of Dell's Precision planning group says the company has been working on their own peripheral for almost three years, well before Microsoft revealed the Surface Dial. The idea is that people using their hands to create have access to a tool on the screen that can change colors, context, position etc. as needed without having to go to a keyboard. Dell offers an SDK to enable developers to add capabilities. Dell envisions the horizontal touch screen as a control panel as well as drawing pad. The idea of the Smart Desk is that it is a peripheral that handles input and the computer screen displays the finished results. More details will come at CES. It's a daring move for Dell and one that is possible because the company is no longer public says Burkhart.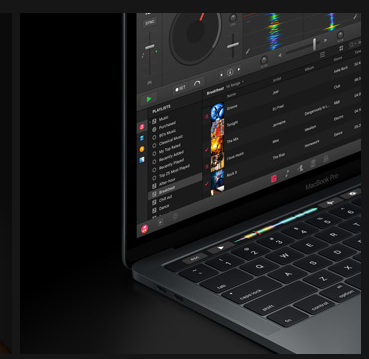 The obvious other example of a new approach to input is Apple's new Macbook Pro machines, which the company has designed for Mac-based creative professionals. Apple has not said what it plans might be for the aging Mac Pro workstation. While Apple continues to resist touch screens in its PCs, it has enhanced two-handed work flows with a larger touch pad and the introduction of the Touch Bar, an OLED touch pad that does the job performed by function keys including change lighting, raise/lower volume, play/pause media buttons, but more important, it can be customized for applications. At Apple's introduction of the new machines, Touch Bar optimizations were demonstrated by representatives from Adobe, Microsoft, Algoriddim, and of course Apple's own Final Cut Pro. Apple promised widespread support for Touch Bar when the new machines come out and mentioned several other apps including Black Magic's DaVinci Resolve, and Pixelmater image editing. The combination of the Apple's Force Touch Pad and the Touch Bar enables companies to build sensitive controls into their applications.
One thing these new approaches have in common is that they're a reaction against the awkwardness of working with a keyboard and touchscreen. You have to take your hands off the keyboard to touch and then re-find your fingering to get back to it. These devices are innovative approaches to that issue, and new ones will no doubt arrive.
For instance, one of the things looking at Dell's machine brought to mind was the idea of being able to use a tablet as an input device. The arrival of Thunderbolt 3 as an input enables these more powerful and multifunctional inputs.