Other new graphics tools include virtual reality stitching, power consumption control tied to frame rate, and performance boosts for professional graphics applications.
Graphics hardware vendor AMD has released its largest update to the supporting graphics software suite. Radeon Software Crimson ReLive Edition has features for professional users, gamers, and developer. Leading the update is new technology for real-time recording and playback of on-screen action.
Radeon ReLive allows gamers to "relive" gameplay by capturing, streaming, and sharing recorded gaming sessions. ReLive uses an in-game toolbar, and offers customizable settings and custom scene layouts. ReLive can also be used to record training sessions in CAD and other professional graphics applications from a variety of vendors.

AMD says this edition of its software delivers up to 30% performance improvements in key professional applications, depending on the product. Supported design tools include Autodesk AutoCAD, Revit, and Inventor; PTC Creo; Dassault Systemès Catia and SolidWorks; and  Siemens NX. Supported media & entertainment products or portfolio brands include Autodesk 3dx Max and Maya; Avid; The Foundry; Houdini; and Adobe.
New this year is LiquidVR, support technology for creating and displaying virtual reality (VR) applications. LiquidVR supports the use of multiple AMD GPU boards and has a rendering optimization feature that puts extreme detail where needed and lower resolution on the peripherals to increase display speed.
Radeon Chill is a new power-efficient frame rate controller that dynamically regulates frame rate based on the speed of mouse movements. Radeon Chill builds on a feature originally developed by HiAlgo and is designed to reduce system power consumption while maintaining end-user gaming experience.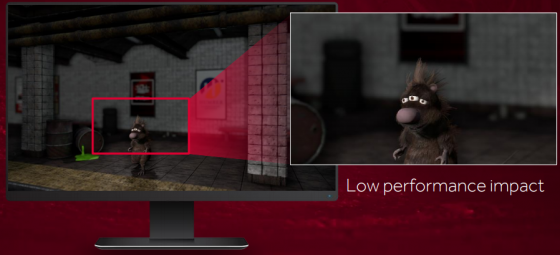 Radeon Loom supports the processing-intensive video stitching process key to creating cinematic 360-degree video experiences in VR. Built upon the Khronos OpenVX computer vision framework as implemented by AMD, the professional-grade Radeon Loom software stitches output from up to 24 cameras live in real-time and up to 31 cameras offline.