XFlow CFD offers a new approach to highly dynamic fluid flow simulation. Next Level will concentrate on its simulation for visualization products.
Dassault Systemès and Next Limit Technologies (NLT) have announced the sale of NLT's Dynamics division to Dassault. The purchase moves a popular new approach to computational fluid dynamics (CFD) into the hands of the world's largest dedicated CAD software vendor.
XFlow CFD has become popular in several industries, including aerospace and defense, transportation, energy, and high-tech. Named customers include Airbus, Caterpillar, Doosan, Ford, Google X, Honda, Mitsubishi, NASA, Safran and Toyota.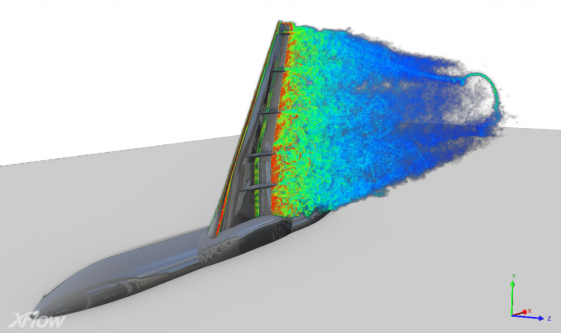 Terms of the deal were not disclosed. Next Limit Dynamics' 2015 revenue was approximately 1.6 million euros. NLT, based in Madrid, Spain, says it will now focus on its 3D visualization and related simulation products, including the popular Maxwell Render. "With this transaction, Next Limit will focus its resources and investment in developing cutting edge 3D simulation technologies for current and new markets such as virtual reality, big data, product design and others. By investing in these high growth areas, Next Limit can expand the breadth of our portfolio and attract new partners worldwide who depend on the company to deliver world-class solutions," the company said in a statement released today.
XFlow uses what is known as the Lattice-Boltzmann method for simulation. Customers use it to predict and enhance the performance of complex designs. This methodology helps with tasks like improving an automobile's fuel economy and lowering emissions, reducing aircraft noise, and increasing the efficiency of wind turbines for power generation.
What do we think?
The leading vendors keep gobbling up the smaller simulation players. But it is the smaller vendors who have the newest technology based on the latest research. Tech companies grow by building or buying. Simulation and analysis technology is so complex it is usually better for the large vendors like Dassault to let somebody else build it and then buy it when the technology is proven.