Charlès makes a strong case for Dassault as the innovation leader in PLM in this interview, which includes jabs at his competition. From the July 2007 edition of Engineering Automation Report, acquired in 2010 by Jon Peddie Research.
By Randall S. Newton
Engineering Automation Report, July 2007—We sat down with Dassault Systemès CEO Bernard Charlès for a private interview at the recent PLM Executive Summit, which opened COE 2007 in Las Vegas, April 30, 2007. The following is a paraphrased summary of Mr. Charlès's remarks, based on a lively 30 minutes.
Imagination motivates innovation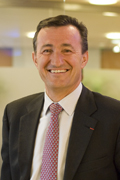 I believe Dassault is unique among CAD/PLM vendors in that we use our imagination to define our contribution to design and innovation. When we started the company, there were no 3D players in the market. We imagined a more complete role for 3D visualization, and we were the first to define Digital Mock-Up (DMU) as more than just a 3D view of many parts. We recognized DMU as a business process; such an idea is now generally accepted. The world recognizes that we push the vision.
We see a growing need for conversion from 2D to 3D, a growing need for DMU, and a growing need for the evolution of business transactions to the virtual world. Those needs in the market are the fundamental sources of our growth. The journey to provide these services is far from over. We want to make DMU about as-driven and as-flown, not just about as-built.
CAD is not a commodity
Others say CAD has become a commodity. At Dassault, we believe the opposite is true. We have never called CAD a commodity. CAD is so useful; we want CAD to do more and to do it easier. There is so much to be done with using 2D and 3D together, and in creating holistic views of the data. We believe that even for the most basic things CAD is not a commodity.
Take SolidWorks, for example. We are not dropping the price on it over time, and SolidWorks users are not stupid; they still buy it. They continue to receive full value for their money. We have added PDMWorks, COSMOSWorks, and other products to make it easier for SolidWorks users to do their jobs.
We are always thinking ahead, thinking of the next steps we must take to provide more value in our products. In realistic simulation, we do not want to simply provide finite element analysis, for example. We want to provide virtual product testing. This is the goal of Simulia; we want to make realistic simulation an integral business practice.
When we built up Delmia [digital manufacturing simulation software] from nothing, we created a digital way to do product manufacturing. At the time there were only a few interested customers. Today there is $120 billion in new manufacturing capacity being installed. 1% of that is $1.2 billion. If we improve manufacturing by 20% for this 1% with our digital software, and we sell on value, what should we earn? You can do the math.
The Siemens acquisition of UGS is too late
I wonder about the UGS Siemens merger. Maybe the deal is too late. Technomatix is not a happy merger. Many former Technomatix developers now work for Dassault; I think UGS has lost five years of competitive advantage because of the departure of these developers.
Please understand, I am not underestimating what Siemens can do. They are a large, successful company. But it is a customer reality that if we do well in digital manufacturing, why would customers buy only from Siemens? Because of a tie-in to Siemens hardware? I don't see hardware-software lock-in coming back, not even on the shop floor. I don't see Siemens being the sole source for anybody.
For us, the UGS-Siemens deal is good news because now there is a big company selling digital manufacturing technology and an alternative company, Dassault Systemès. We are free to compete aggressively. There will be less of an emotional component to the sales process in the future.
On the evolution of product identity at Dassault
We are forming specific identities for our products. For SolidWorks, Delmia, Simulia, and the others. Catia, for example, the identity is not MCAD, it is product modeling. We are adding features to Catia for electro/mechanical products. This is one of the areas in which Catia will be known for product design in very specific applications.
Our recent acquisition of ICEM is not driven by its existing installed base of users, including Ford. We bought ICEM because it is world-class technology that matches our technology. We can now offer designers a sketch-to-clay environment. This is not easy for any of our competitors. In manufacturing it is all about style now. There is no saturation for this kind of technology in any market we serve.
The future of the web and product design
There is a tension between the Internet and the corporate organization. Web 2.0 opens up the web to sophisticated applications. Until now the Web was flat. With smart client technology, you will see more and more sophisticated online applications. This will open the world to high-value applications. There is no reason it won't change things drastically. We are on the verge of a new economy, based on Software as a Service. Dassault intends to be a part of that new economy. We want to provide value on the Web.
In only a few years, there will be sophisticated collaborative design on the web; the power of Catia yet available on the Web. It will be similar to what Google Earth offers, not a thin client experience but a rich web experience nonetheless. Our new 3DLive is a 3D access map. What Google Earth is for land, 3DLive is for parts. 3DLive offers 3D access to the entire IP of the product. And the most interesting part of all of this, is that the access map is the product itself.