Newest module in Tekla Structures offers a 3D BIM approach to construction work processes.
Tekla has added a construction management module to Tekla Structures 17, allowing it to extend its 3D BIM structural engineering solution into work process management.
Tekla—in the process of becoming a subsidiary of Trimble—develops model-based software products for the architectural, engineering, and construction (AEC) market.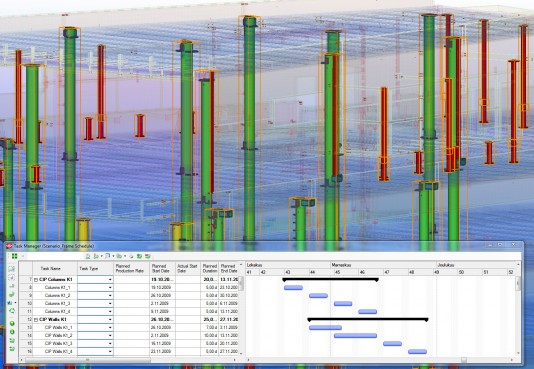 The new module includes Model Organizer, which allows structured handling and sharing of model or project information by submittals, lots, or sequencing; create take-offs of all materials; and define work breakdown structures. The module extends the existing Task Manager module of Tekla Structures, and provides a familiar combination of Excel-like lists with same-page access to relevant model views.
Other processes enabled by Tekla Structures 17 Construction Management:
Manage process information of individual building components, such as installation sequencing and planning for delivery lots;
Creating a breakdown structure (WBS) ;
Using model-based scheduling throughout a project from detailing to fabrication to erection;
Managing clash checks.
What we think
There are plenty of construction management solutions already; why another? Because Tekla puts the structural engineering data model front and center, not as something on the side to consult when the tabular data doesn't make sense. Beyond that, a 3D data model approach allows more flexibility when changes are required, and it opens up multi-user access and availability in other applications.
This product will initially appeal to those whose primary work took is already Tekla Structures and who want to stay in the product—and in a 3D environment—as long as possible. Whether it can unseat competing solutions remains to be seen.