Both consumables and printer sales saw record volume. The Fortus line was up 67%. Nevertheless, Stratasys stock dropped 22% as soon as the market opened.

Stratasys (NASDAQ: SSYS) today posted record revenue of $37.6 million for the second quarter (ended June 30, 2011), compared to $30.1 million from the same period in 2010. Business was good, but not good enough for speculative investors; The stock fell 22.7% in early trading after the report, with trade volume several times above average.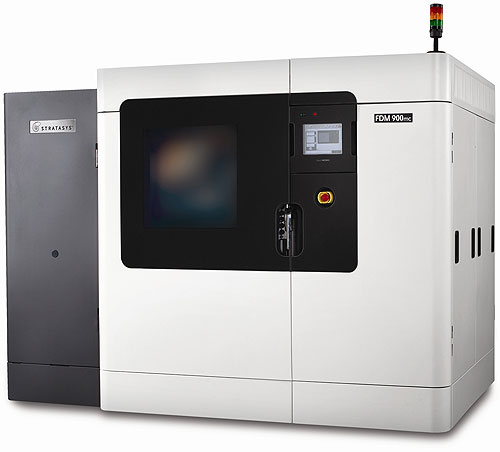 The second quarter results include two months of contribution from the acquisition of Solidscape, Inc. (See "Stratasys acquires 3D printer maker Solidscape.") The acquisition was completed in April of this year and contributed $2.1 million in revenue to the second quarter results. Excluding the contribution made by Solidscape, revenue was $35.5 million, an 18% increase over the same period last year.
System shipments, excluding Solidscape, totaled a record 690 units for the second quarter of 2011, compared to 682 units for the same period last year. Sales of the Fortus line of high-end fused deposition modeling products grew 67% year-over-year.
Revenue from consumables increased by 20% over last year, meaning existing customers are increasing their use of additive fabrication. Most of the growth in consumables is coming from the Fortus line; the company says the use of 3D printing for direct digital manufacturing (DDM) of end products and manufacturing aids (tools, jigs, molds, etc.) is increasing.
Total product revenue in the quarter was $30.4 million, up 27.8%. Total services revenue was $7.1 million, up 13.8%.
During the quarter Stratasys introduced a new material it believes will expand its market in the electronics industry. ABS-ESD7 eliminates static electricity, which can be potentially damaging during the manufacture of sensitive electronic components. Manufacturers can use ABS-ESD7 to make static-free assembly aids and fabrication tools. The higher profit margin in consumables, plus the strong demand for high-end printing units, led Stratasys to "significant margin expansion" and a record operating profit during the quarter
Net income in the quarter was $4.0 million, compared to net income of $2.3 million for the same period last year.
Stratasys has renewed its sales and distribution agreement with HP for another year; HP intends to expand beyond the five European countries they currently serve. "Stratasys and HP continue to see a significant market opportunity within 3D printing and both parties remain committed to our collaboration," says Stratasys CEO Steve Crump. "The full potential and ultimate success of our collaboration with HP will require sales and marketing programs that go beyond current commitments. Although we currently have no commitments from HP that the collaboration will expand beyond new European markets later this year, we believe HP can become the ideal partner to grow the sales of our 3D printers. Consequently, while we remain committed to the HP collaboration, we also intend to accelerate independent channel development strategies."
According to Wohlers Report 2011, Stratasys had a 41% unit market share in 2010, and has been the unit market leader for nine consecutive years.
Cash per share on June 30, 2011 was $0.73, down from $1.70 three months ago, primarily due to the Solidscape acquisition.