A desktop program and an iPad app team up to allow navigation and provide full lightmap options for SketchUp models.
SketchUp third-party developer Cadalog has released Viso3D to export SketchUp models for the iPad. Viso3D will export SketchUp faces and textures, add a lightmap and then provide the ability to view and navigate the 3D model on an iOS device. The lightmap will simulate SketchUp sun, shadows and indirect lighting. The iPad app supports walk-throughs, orbiting, panning, lines for edges and SketchUp scene positions.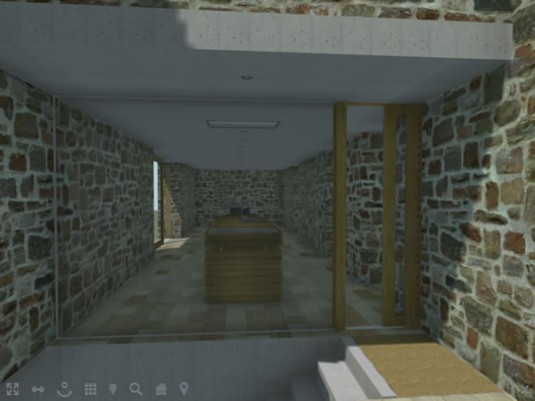 Viso3D is comprised of two separate programs. One is a SketchUp plug-in which will export a SketchUp model to an iOS supported file format called .xcs. The other program is a free iOS app for viewing and navigating the 3D .xcs file, available from the iTunes app store. It includes 3D navigation tools such as orbiting, rotating, panning and walk-through motions.
Using the free Viso3D iOS app, one can view and navigate an exported SketchUp model. The exported file includes the SketchUp geometry, colors, textures, scenes and shadows. The navigation tools include orbiting, panning, moving forward and backward (walk-through), display of face edges, turning off and on the lightmap (sun and shadows) and the support of SketchUp scene camera positions. One can send the converted .xcs file by e-mail or download the files using Dropbox for iPad or any other iOS file manager. Alternatively, use iTunes to transfer the .xcs files from the desktop.