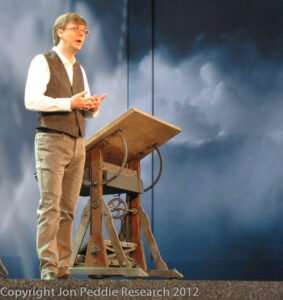 The champion of creative software for professionals heads to a company that seems to have forgotten about professional software. 
With the release of their latest financials, Adobe posted revenues of just over $1 billion and has beat estimates. The company has signed up almost a half million people for their Creative Cloud services, and in an SEC 8-K release, the company revealed that CTO Kevin Lynch is going to Apple.
This is a natural move for Lynch, but a shocker nonetheless. Early in his career, Lynch developed software for Apple including FrameMaker, which was later acquired by Adobe. He also worked at an Apple spin off, General Magic, an early pioneer in portable devices. General Magic's products floundered in a market that was awash in the first wave of portables including Apple's own Newton device, developed by Apple after the spin out of General Magic.
Lynch joined Macromedia in 1996 and led the development of tools for Web publishing including Dreamweaver. He came to Adobe with Shantanu Narayen and the Macromedia acquisition and the two have led Adobe into the cloud with determined bravery and conviction.
Historically Adobe has had close ties with Apple, even if those ties have become bare threads of necessity these days. Lynch loyally defended Adobe's Flash technology against Apple's Steve Jobs attack on its relevance in the modern age of interactive computing and devices. At the same time, Adobe has transitioned to HTML 5 as rapidly as any company.
At this stage of the game, Apple needs Kevin Lynch more than Kevin Lynch needs Adobe. He has accomplished a great deal in helping push Adobe up into the cloud and to evangelized the future of the cloud-based workflows for creative people and companies. He has functioned as the public face of Adobe's greek tribe, but the CTO isn't in the trenches. Adobe has a network of talented business unit heads who are in charge of product development. The company says they will not be replacing the CTO position but Bryan Lamkin, senior vice president and GM of Creative Solutions, will step up to lead cross company R&D, technology initiatives, and corporate development at Adobe. Lamkin was at Adobe for 14 years. He had his fingers in all of Adobe's important pies including imaging and video. He left in 2009 to have adventures at Yahoo and Clover, but he has returned to Adobe in 2012.
Apple in the meantime has been floundering on several fronts even as it has dominated the mobile world. The company has all but abandoned its loyal army of creative professionals. And, even on the mobile side, it has had some notable software failures most evident in the flawed Maps app for iOS, which even the company admitted was dangerous and CEO Tim Cook issued an apology. The debacle led the the departure of Scott Forstall, and highlighted personality clashes in the executive ranks of Apple's development teams. Apple's vaunted software expertise has been on the wane in some areas, whether the company wants to admit it or not.
So far, we haven't gotten a call on Apple's plans for the future. We're still waiting. What has been announced is that Lynch is joining the company as Vice President of Technology and he'll be reporting to Bob Mansfield. Mansfield, you'll remember was headed out the door at Apple, looking forward to a happy retirement, but he was called back to duty with the departure of Forstall, or at least that's the general interpretation.
For Lynch, this is a fabulous opportunity to help rebuild and lead an innovative giant into new territory. He's got expertise and interests firmly established in mobile; he comes from one of the most important companies in the content creation universe, and partnered with Adobe CEO Narayen, he's displayed a willingness to go for broke. Can't wait to watch this play out.