A total of 15 scholarships were awarded to architecture, landscape and entertainment design students in eight countries.
Architecture student Benno Schmitz's concept design for a new museum that connects an old industrial site to the contemporary urban landscape of Bonn, Germany is the winning entry in this year's Vectorworks Design Scholarship competition. Schmitz was given top honors in a competition that also awarded scholarships to 14 other students from eight countries.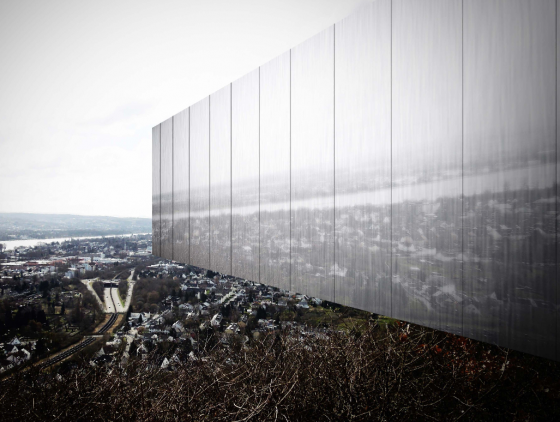 For his submission, Schmitz entered an assignment from a university class in which he created a place "where nature and culture meet in a visually striking experience," according to the statement issues by the team of judges. Schmitz's design impressed the scholarship judges with both its originality and powerful use of space. Schmitz therefore received a $3,000 Vectorworks Design Scholarship plus the $7,000 Richard Diehl Award.
"The site for the museum is marked by industrial ruins, as well as environmental damage from the mining of coal and stone," said Schmitz. "The whole topography of the area has been changed by humans. The museum brings new culture to this place where I grew up and uses humankind's impact on the environment to its advantage. Without the sheer rock face left behind from the stone quarry, the design wouldn't be as visually impactful, and without the museum, this wasteland of space wouldn't be as meaningful. Only together do they work perfectly."
In addition to honoring Schmitz, an international panel of design professionals and academics also presented 15 Vectorworks Design Scholarships worth $3,000 each to individuals across the architecture, landscape and entertainment design fields in Australia, Belgium, Canada, China, Germany, Switzerland, the United Kingdom and the United States. Students were able to submit both individual and group work created in any design software, which was evaluated based design integrity, effective use of computer technology and originality, as well as the articulation and communication of a design vision. Images from all the winning entries are posted online.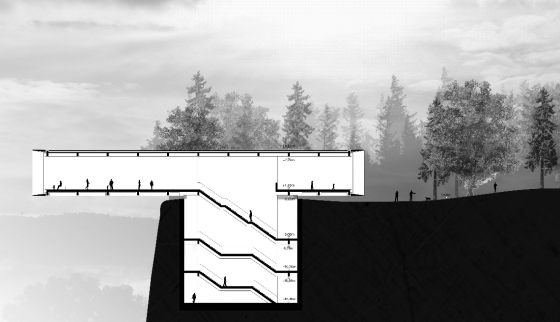 The other winning projects included:
Café Terminaal by Frédérique Windels and Yleni Bossu, Katholieke Universiteit Leuven, Belgium

Flowing Time—The Industrial Landscape Restoration of 751 Locomotive Square by Lin Xu (??), Capital Normal University Beijing, China

Live Forever by Xiang Liu (???), Central Academy of Drama Beijing, China

Mexico City BIGnature by Natasha Polozenko, Harvard Graduate School of Design, United States

Opportunity in Danger by Maham Tahir, Birmingham School of Architecture, United Kingdom

Räumlich Reimagined by Fatima Blötzer, Muttenz der Fachhochschule Nordwestschweiz, Switzerland

Rosengarten Hotel by Brecht Casier, Sint Lucas, Belgium

The Center for Folktale Communication by Ryan Turner and Ronli Mak, University of Calgary, Canada

The Electra Project by Martha Carter and Morgan Price, University of California at Irvine, United States

"The Displacement" or "Revolt of Abandoned Architecture" by Anthony Chun Ming Ko, The University of Hong Kong, China

The Magic Flute by Neneh Lucia, Victorian College of the Arts, Australia

The Nature of Flutmulde by Nikolai Hein and Yumeng Zhang, University of Kassel, Germany

The Nest We Grow by Baxter Smith, Hsiu Wei Chang, Fanzheng Dong, Hsin-Yu Chen, Yan Huang and Max Edwards, University of California at Berkeley, United States

Vertical Metabolism by Matt Perotto, University of Toronto, Canada

What is Normal? by Isabelle Weydert, Sint Lucas, Belgium
In addition to the monetary awards, winners' schools also receive licenses of Vectorworks Designer with Renderworks software for their labs and training provided by a Vectorworks expert. Schmitz acknowledged that two of his professors at Beuth University of Applied Sciences Berlin supported him as he addressed challenging aspects of detailing his design. They will be among the instructors whose labs will benefit from the Vectorworks grant.
"The creative potential we saw in this year's entries is exciting, including inspiring submissions like Benno's," said Richard Diehl, founder and chairman of Vectorworks, Inc., and namesake of the grand prize. "We saw the number of entries over last year double and are thrilled to support students who represent the future of design innovation as they continue to pursue their degrees and launch their careers."