Corel has found its niche with serious consumers and professionals who are not paid to be visual creatives. New ParticleShop works with Adobe image files as well as Corel.

  
By Kathleen Maher
Corel rolls out new products in a disciplined cadence, though like most companies, all updates are not equal. Usually, it seems the company alternates between major upgrades and feature tweaks. In this Corel is pretty similar to its competitors. However, with the arrival of Windows 10, and Intel's Skylake processors, the company is striving to bring 64-bit support to all its products. It's certainly not leading the charge on that front, but the company diligently makes sure the bases are covered.
For the video products, Corel has brought VideoStudio and Pinnacle up to speed with audio ducking, new effects, and additional formats, but in general, there are no stunning changes in its video or Corel Painter this time around, and, it could be argued, how much do users expect? However, we do find the brushes that Corel has combined in ParticleBrush to be amazingly useful and fun.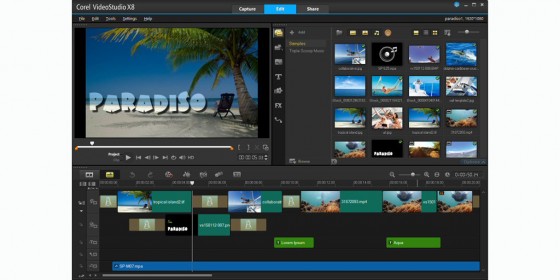 The company says users can expect to see more plug-ins and apps coming from the company. Corel's creative customers are getting restive on some fronts. They're noticing the drop in support, but then again, the company has worked hard to improve interfaces and provide more hints and help in the product. The company is selling tutorials, making MyDVD available as an option (due to licensing costs, says the company), and help on the forums is pretty much user to user.
The company is owned by equity company Vector Capital, which claims it's making money from its investment in Corel. The company is mining the user base for incremental add-ons, new brushes for Painter, effects for the video tools, tutorials, and support. The strategy points to the challenge of software sales in a world where point products are free or open source and professional tools are sold on subscription and maintenance. The companies selling to consumers and committed hobbyists are challenged to get the features they add paid for in more direct ways. Corel is at least pointing the way that some companies might go.
Pinnacle 19 arrives for serious video editors
Corel has done a pretty good job of cornering markets in creative tools. Once acquired, Corel does not do much to change the character of the acquired company, letting each continue serving the market they served before acquisition. In the case of its video products, Corel's VideoStudio is positioned as the more entry-level version, and Pinnacle is mid-range to prosumer.
In 2013, the company shut down its development and quality control offices in Asia and has outsourced development. Quite sensibly, the company has combined some development for the video products. However, the company is also trying to maintain the distinct character of the different products. It wants to nurture Pinnacle's customers, who are willing to pay a bit of a premium for professional features.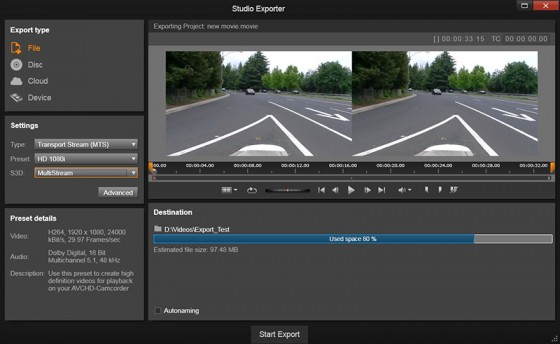 Product manager Michel Yavercovski, who represents all the video products, tells us that the Pinnacle user base has a higher than average interest in working with their pictures and using professional features. Pinnacle customers tend to buy the higher-end versions of the product. This latest version of Pinnacle features improvements in its support for 64-bit operating systems, multi-camera editing with audio syncing, and better performance, and the company has beefed up Pinnacle's support for professional tools with support for XAVC decoding, DVCPro HD decoding, and MXF import. Pinnacle Studio 19 is available in three versions. In addition to the basic Pinnacle Studio, there are also the Plus and Ultimate versions. The basic Pinnacle Studio is priced at $59.95, and it supports multi-camera editing for two cameras. It supports 64- bit and Intel Core i7 processors and has enhanced HD processing and playback.
Pinnacle has a SmartMovie feature and a six-track timeline. There are over 1,500 2D/3D effects and the ScoreFitter music library. Completed videos can be shared directly to Facebook, YouTube, and Vimeo. The company also makes DVD-burning available with the optional Pinnacle MyDVD. The Plus version at $99.95 has support multi-camera editing support for four cameras, and the multiple tracks are easier to manage with the ability to align clips with audio syncing, which means you can line up the different camera tracks with an audio track to make your edits flow with the audio content. The Plus version supports 24- track editing, live screen capture, and over 1,800 effects, titles, and templates. Plus also supports HD.
The Ultimate version sells for $129.95 and supports multi-camera editing for up to six cameras and two additional soundtracks. Clips can be aligned with an audio track for easier editing. Audio ducking is enabled for tasks like balancing music with narration or dialog. The Ultimate version supports unlimited tracks, 4K, HD and 3D, and support for VFR from mobile devices. Each version also gets more effects and transitions as it moves up the food chain.
Corel is also offering a free 30- day all-access pass to Studio Backlot.tv training content. Pinnacle also has mobile products including Pinnacle Studio for iPad and the ancient Dazzle video capture devices.
Corel introduces new Painter and effects for Photoshop and Lightroom
Corel has also introduced the latest version of its popular Painter product with an interesting little twist; it's also pulled out some of the product's more interesting brushes into a standalone utility called ParticleShop which can be used with Adobe's Lightroom and Photoshop. It's a bit of a if-you-can't-fight-them strategy that makes sense for Corel and its Painter product because the people who love Painter aren't going anywhere. Artists can do things with pixels in Painter that would be much more complicated in Photoshop or Illustrator, if it were possible at all. Painter has a sense of depth, texture, and even physics. So, by making some of its tools available in Adobe's products, it's exposing potential new users to Painter.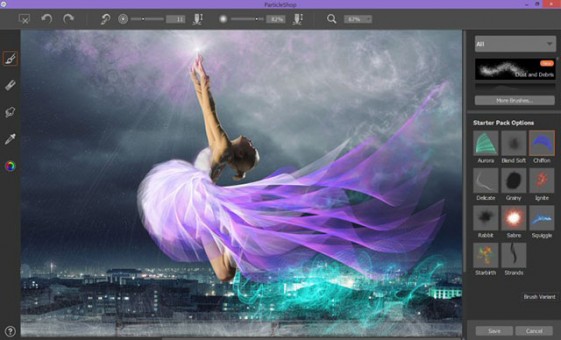 Similarly, people who depend on Illustrator and Photoshop for their jobs (we could add CorelDraw in this list as well) aren't going to forsake those tools, but many of them do work with Painter as well. It's a great painting tool.
In this version, Painter has a few new little gadgets including the Audio Expression feature, which lets users change the appearance and performance of brushes according to an audio track. Not totally sure why you'd want this, but then again, why not? Likewise, the particle system enables Dynamic Speckles, which means brushes can respond to pressure, speed, etc. This is kind of cool because it furthers the feeling of "painting," a long-time strength of the product. Other responsive tools include the ability to blend colors and mimic water colors and oils. Corel has added brush hints. Other new features allow the canvas texture and brushes to be rotated to vary the effects. Painter is used by artists and illustrators. It's designed to work with a professional tool like the Wacom Digitizer and the Apple touchpad.