Digital artists get new tools with Painter 2023 that speed up their workflow and allow for more creativity.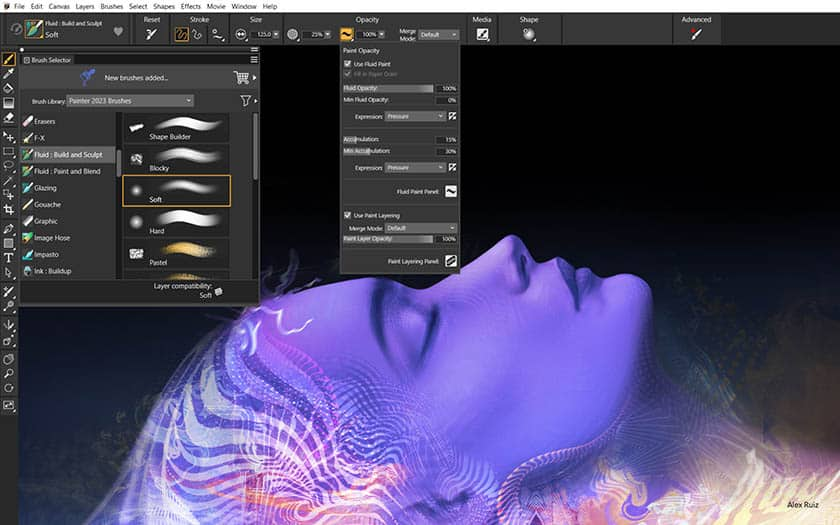 Corel has released Painter 2023, an update to its venerable paint and digital art software that will give digital artists access to a variety of new tools to improve productivity and workflow. These new features include Fluid Paint, hundreds of different brushes, modifiers for selection tools, and behind-the-scenes improvements that artists will find useful.
Fluid Paint enhances digital painting by simulating smooth, fluid brushstrokes and incorporating improved opacity controls for natural (or intentional) blending. With Fluid Paint, artists can layer paint with greater ease and control, giving them the flexibility to sculpt a variety of unique textures This is strengthened by the addition of 285 new brushes, each one crafted with artists' specific styles in mind; whether it be for a comic book, storyboard, or concept art, there is a brush for every need.
In addition, selection tools have received numerous additions in this update. A color overlay has been implemented, allowing for clearer and more precise selections. These settings can be saved as presets for future projects. A new Selection Panel slider allows artists to adjust up to 2,000 pixels for quick and efficient selection feathering. Addition and subtraction selection modes are now able to be swapped with keyboard shortcuts. Color selection tools have been added, too, giving artists the ability to select entire portions of their projects based on color. Color selection brushes can be equipped via the property bar and can be swapped between aliased (hard) or anti-aliased (smooth) edges to accommodate a variety of art styles.
Painter 2023 further contains user-requested changes to hasten workflow. These include improved image placements and center alignments; better brush resize responsiveness with bracket keys; Magic Wand, Paint Bucket, and Dropper tools; the ability to preserve previously used settings; and more accurate tools for filling in gradients.
Painter 2023 is currently available for Windows 10 and 11, Mac, and compatible tablets. The app can be purchased for $429 or for an annual subscription of $199 ($16.58/month). Those who already own the program can purchase the upgrade for $229.