New JPR market report says PC gaming hardware market will be essentially flat in 2015 before resuming growth in 2016.
Jon Peddie Research (JPR) believes notebooks bought for gaming have entered a challenging sales environment as PC gamers gear up for the forthcoming mass market arrival of 4K/UHD (ultra high definition) equipment. As a result, the global PC gaming hardware market is forecast to slightly recede in 2015 but, but less than the overall PC market, and then resume growth in 2016.
However, all recession and growth within the market is not equal. Ted Pollak, Senior Analyst notes, "This cycle, unlike any for the past fifteen years, will inspire gamers to upgrade their displays. 27 inch and larger 4K/UHD displays are reaching mass market pricing levels and produce an incredible experience allowing much wider field of view and greater detail. The financial outlay for these display upgrades alone is billions of dollars over the coming years."
Jon Peddie, President of JPR adds, "In addition to the cost of the new display technology, gamers are going to need the computing horsepower to drive Triple A game engines at over 60 frames per second, and that horsepower comes at a premium." Sixty frames per second is considered the gold standard in PC gaming and many prefer even faster speeds, at least twice that number if VR is involved.

The gaming notebook and desktop market is especially challenged in the low end as many casual players opt for tablets and TV Gaming options to satisfy their needs. However a new wave of TV optimized PCs from Alienware, iBuyPower, and other companies could buck the trend. On a positive note for 2015, the PC Gaming peripherals and upgrade market serves as a buffer in hard times as gamers who wear through mice, keyboards, and headsets easily justify their replacement.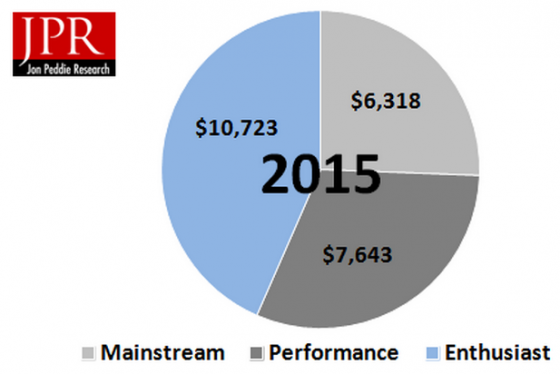 The PC Gaming Hardware Market is very diverse among its different segments. The high end Enthusiast segment is performance and style oriented much like sports car owners. While the low end just wants to play games on something and this is why the segment is under threat from cheaper gaming solutions.
The JPR report contains the following content:
After-Market add-in board (AIB): Discussion and estimates of after-market graphics cards sales as upgrades and for home builds

System Configured PCs: Discussion and estimates of PC sales influenced by gaming from companies that either sell pre-configured or custom configured builds. Estimates are broken into notebooks and desktop segments.

Accessories and DIY: Discussion and estimates of accessory sales and the Do-It-Yourself (DYI) builds

Charts, graphics, tables and more. Included with this report is an Excel workbook. It contains the data we used to create the charts in this report. The workbook has the charts and supplemental information broken out by platform.
The Worldwide PC Gaming Hardware Market report series  by Jon Peddie Research which covers 33 countries, notebooks, desktops, DIY, and accessories, comes in three versions: Enthusiast, Performance, and Mainstream, with each version selling for $7,500 and the set of three for $15,000. In addition, with the set is a summary report of the Total PC Gaming Hardware Market worldwide.