Oculus and Epson presented two wildly varying approaches to headset design at Siggraph 2013.
By Kathleen Maher
Nvidia took a space in the Emerg­ing Technologies area to demon­strate the work it is doing with lightweight display panels for virtual reality (VR) headsets. The panels are fabulously thin and lightweight, but the VR experience was a long way from satisfactory.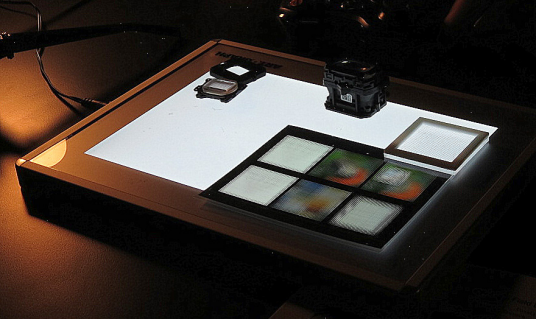 There's also a new VR startup in town … really. Oculus took a shed in the back of the hall (see, "The coolest booth at Siggraph). We wandered back there to see what's what, having been involved in several of the old VR wars—or wait, maybe our parents told us about them. Earlier in the day an enthusiastic young type over in the Shotgun booth told us the Oculus Rift would redefine movie­making as we know it. The project was started by Palmer Luckey, a teenager who had been working in his garage on virtual reality headsets for a few years. Palmer teamed up with veterans from Scaleform, the interface company acquired by Autodesk and headed by Brendan Iribe. Together they launched a Kickstarter, which raised $2.4m to fund the creation of Oculus Rift development kits, over 20,000 of which are now in the hands of content creators around the world.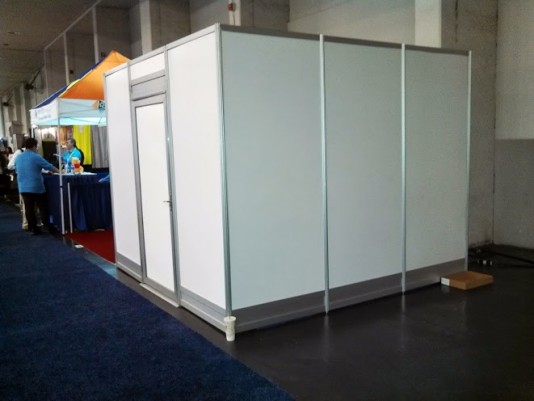 Oculus Rift has been partially fund­ed through crowdsource money. They raised $2.4 million during their Kick­starter campaign. What we saw on dis­play was immersive enough, but the dis­play was nowhere good enough. There's lag and blur because the display panels aren't fast enough to keep up with the data being fed to them. The effect is un­pleasant.
Technology marches on, and it may well be a matter of not too much time before the displays can keep up with the demands of 3D gaming. Meanwhile, the young company can try to answer the question: is this what people really want to do with head-mounted displays? In addition to 3D gaming, there is the po­tential for multi-viewing movies. One of the demos shows a movie theater where other virtual patrons can watch the movie together. Or, in the case of 3D gaming, the gamers can really be in the game together. The people at Ocu­lus Rift admit that hanging out in 3D spaces wears off in the thrills and chills department pretty quickly; we knew this years ago.
Epson brings AR to earth
Epson has another alternative. Last year at CES, Epson announced the de­velopment program for their Moverio BT-100 3D transparent head-mount dis­play unit, powered by the beloved An­droid OS.
The Moverio BT-100 consists of a set of see-through multimedia glasses and a pocket-sized control unit, powered by Android 2.2 (Froyo). The device offers web-browsing capabilities and allows users to watch content from most web­sites including MPEG-4 videos, files, or applications and side-by-side 3D view­ing on the move. The control unit fea­tures dedicated buttons for commonly used functions and a touch-sensitive track pad. Wi-Fi connectivity, a 4 GB SD card, 1 GB of internal memory, and a convenient storage case are all includ­ed with the Moverio.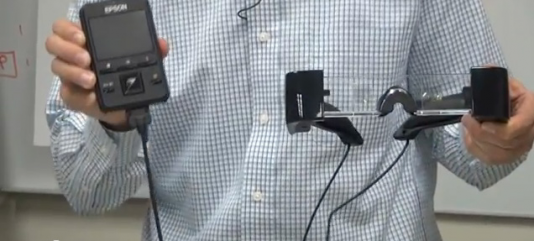 The display is a "large perceived image"—equal to viewing a 320-inch screen from a distance of 20 meters. Viewing mode can be toggled between 2D and 3D.
Lens resolution is 960 x 540 (qHD16:9) 24-bit color 60H refresh, which gives a perceived image of 80 inches at 16.4 feet (5 meters). The field of view is 23 degrees.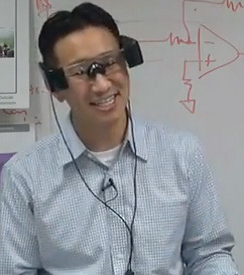 The Moverio uses a micro-projection optical engine with 0.52-inch Poli-sili­con TFT active Matrix Color LCD with a LED light source.
Epson invited one and all to apply for the SDK and join the developer pro­gram, looking for ideas for applications and usage. They've got those proposals now and are evaluating which ones they will fund.
The kit sells for $700, which is less than Google Glass, and it has two screens. It has a six-hour rechargeable battery, 1 GB of internal storage, plus a microSDHC card slot (for movies, books, music, photos, etc.) and Wi-Fi for streamed content.
Our take
I tried the glasses and discussed AR with the Epson guy and one of their partners, APX (which has some nice application examples on their website). They are doing security and military intervention systems.
There are no location sensors, so a gyro or would be needed to open it up to the whole AR market. It's an open system, and Epson invites hacking and experimentation. I expect to see inter­esting applications next year.
As for headsets in general, there is plenty of question about what people will really want to do with these devices. The Oculus Rift has gotten enthusias­tic endorsement from the game heavy­weight—John Carmack, Dean Hall, Gabe Newell, Cliff Bleszinski, Michael Abrash, Tim Sweeney, Chris Roberts, Markus Persson, David Helgason, and Shuhei Yoshida of Sony's Worldwide Studios—ac­cording to Wikipedia, anyway.