Autodesk University 2015 talks up the software systems that better fit how people work.
By Kathleen Maher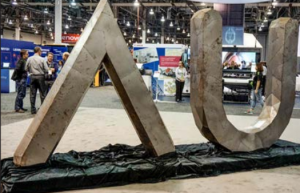 The Autodesk stage show is a whole lot of glitz and a bunch of future talk. The show was opened up by Star Troopers and Autodesk technical evangelist Lynn Allen. We never did get the relevance of Star Troopers, though they were funny, but Allen is a hero of the AutoCAD masses and her presence on the Autodesk stage is a reminder that the people who make Autodesk what it is are the people who use Autodesk's tools to get work done. And that was that.
For the most part the stage show at Autodesk University these days is not so much about the nuts and bolts of the software, but it does provide a look at Autodesk's ambitions. In this, Autodesk isn't so different from its competitors; the day has long passed since any of them could speak to a single constituency of customers and end users.
The official theme of this year's show was the same as last year, The Future of Making, but the focus was less on the makers and more on systems, collaboration, the cloud, and those pesky Things everyone's talking about all the time.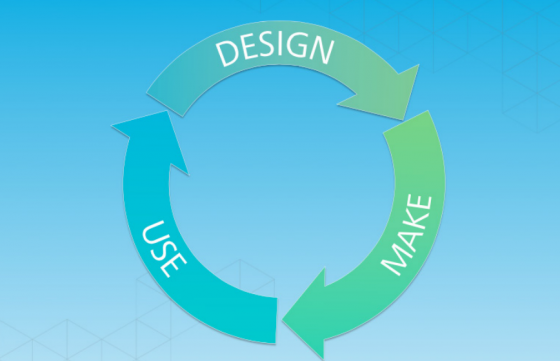 Carl Bass said he's been thinking about the ways in which creative people are able to reframe a problem in order to come up innovation. Bass thinks it is important to ask himself, "Are we really working on the right problem?" One of the examples Bass offered was the work done at ConXtech to solve a problem in structural engineering—the difficulty of building structures using traditional methods of assembly and welding. The company has devised a building system using modular components with standardized "lower and locking" which enables structures to be assembled without welding. The result is buildings can go up with fewer people and easily meet seismic requirements.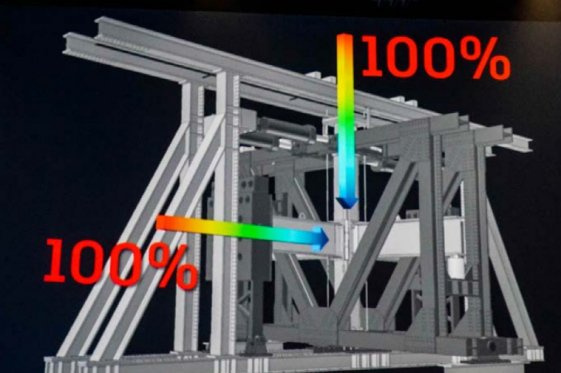 In another example, Bass talked about Apple's giant new headquarters going up in Silicon Valley. Being different and all, Apple has eschewed a skyscraper in favor of a giant donut designed by Lord Norman Foster. The thing is being built to be green and efficient, but even the construction process is transformational. Bass describes it as an "open-air manufacturing site," because the building's components are being fabbed on site and assembled. Bass compared the process to building a Mac or an iPad. His point is that building and manufacturing are converging, and he said in the future these differences will increasingly disappear, and in fact, the convergence of design and build practices was one of the real themes of the conference.
Bass told the press he sees the strict lines between products disappearing. Rather, people will access workspaces and tools as they need them. For him, it's a relief because, he said, there will be less focus on products and which is more successful. Certainly, the AEC industry will benefit as it starts to function more like the manufacturing industry. This isn't a transition thought up by a bunch of software companies, it's a transition the industry has called for. The AEC industry has been challenged by inefficiencies. Shrinkage, the industry's euphemism for theft, fraud, and negligence, has claimed a chunk of overhead on every project. In response, the AEC has strived to become more like manufacturing in its embrace of just-in-time supply chain management, on-site fabrication, the use of sensors and tags to monitor every part of the process from machinery to materials, and so on. What we're seeing on the part of software makers like Autodesk, Bentley, Trimble, and Nemetschek is an effort to give the industry what it wants.
Project Alexandria comes to life
Autodesk's Stacy Scopano, Industry Strategy Manager, introduced Autodesk BIM 360 Docs at AU. The technology has been available to companies as Project Alexandria in the Autodesk Labs. The idea is to consolidate construction documents in the cloud to enable companies to create, access, maintain, markup, and share 2D and 3D project documents, plans, and models. Autodesk says up to 25% of construction is rework and 10% of materials are wasted, and the company attributes some of the inefficiency to document management.
Autodesk BIM 360 Docs will be officially released in 2016. The company says BIM 360 Docs will feature:
Linked 3D and 2D views, allowing users to interact with models in 2D views and visualize them in 3D on the same page, and vice-versa;

Permission-based access control and approval processes to manage the updating and release of documents, preventing project teams from working from out-of-date information;

Fast viewing for large-format PDF design documents, optimized for Apple iOS devices;

Automated organization of original and updated construction docs into sets, including highly accurate and customized optical character recognition (OCR) of title blocks.
People curious about BIM 360 Docs can get a free but limited version of the product at www.bim360.com/docs. Autodesk says that after introduction, they plan to offer additional capabilities available on a subscription basis for construction firms. On the face of it, this seems like an obvious solution to the problem of document management, and Autodesk has fired up similar repositories for the AEC industry, but Stacy Scopano said, "This isn't just a hard drive in the sky, this is all about the intelligence of the bucket knowing what you put in it."
The Augmented Age
Autodesk is taking on generative design through its Dreamcatcher project. On the face of it, the technology looks similar to Bentley Systems' Generative Components and Altair's Inspire software. All three use technology to optimize design, to find the most efficient shapes for a particular project. Autodesk's visionary-architect-in-residence David Benjamin, who came to the company when he sold his design firm The Living to Autodesk, worked with Airbus and Project Dreamcatcher to create a new lightweight design for a airplane partition.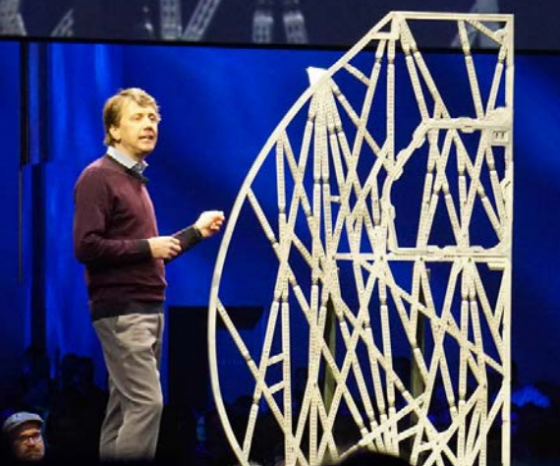 The team used Generative Design and took advantage of "infinite CPUs" in the cloud to generate a design that mimics cell structure and bone growth. The partition design was developed to be used with an alloy Airbus subsidiary APWorks has designed for its planes called Scalmalloy, which combines aluminum, magnesium, and scandium for a lightweight but high-strength material suitable for additive manufacturing. The partition is assembled with components built through additive manufacture. Autodesk CTO Jeff Kowalski said the part will be tested in a crash simulation soon; its designers expect it to perform well.
Down the road, it's possible Airbus could use the same process throughout the cabin of the airplane. Kowalski used this design as an example of how generatively designed products are making their way out into the real world. As he said, "complexity comes for free in additive manufacturing." He talked about allowing computers to be "better partners for design" thanks to the advances coming from machine learning.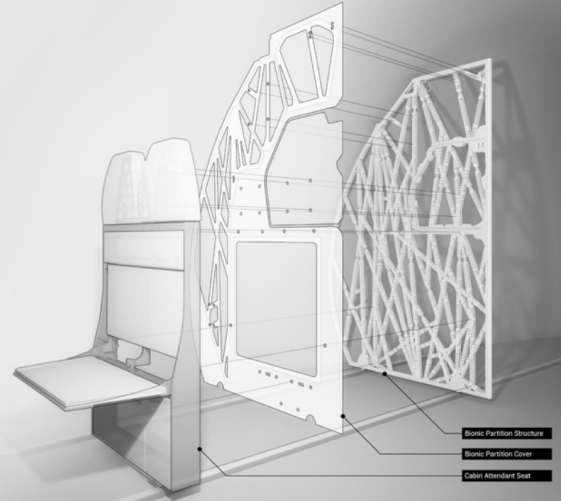 No fear for the future
However, probably the main message of Kowalski's talk was that there's no reason to fear the advance of technology. Technology is not going to take our jobs, at least he said, not the jobs of the creative and trained people attending Autodesk University. For instance he said Autodesk is putting a great deal of focus on robotics. "You're not going to lose your job to a robot," he said. Instead Autodesk is anticipating the participation of humans and robots in manufacture. We have already seen this with Rethink Robots' Baxter, a mascot at SolidWorks conferences. Baxter was designed to work alongside people on production lines.
Kowalski talked about the Universal Robotics UR10 Robot that Autodesk is training in their Pier 9 Lab. It's named Bishop and the robot has been training to draw shapes. Autodesk plans for Bishop to take the lead with Amsterdam firm MX3D, which is planning to build a 3D printed bridge. Kowalski says Bishop cannot do what it does, when it eventually does it, without the aid of humans. Bishop, you'll remember, was a slightly duplicitous android in the movie Alien, which does kind of make you wonder why Autodesk chose that name. Robots are just another example of how machines can take over jobs that humans do, and do them better. The optimist theory about how all this works out is that humans will then be freed for more interesting jobs, like, we presume, teaching a robot how to draw.