MBEWeb for Anark Core provide mobile and browser access to engineering data.
Anark Corporation has updated its recipe-driven 3D publishing and collaboration suite for manufacturing with new model based engineering (MBE) capabilities. MBEWeb for Anark Core provides full support for mobile and browser-based access to engineering data.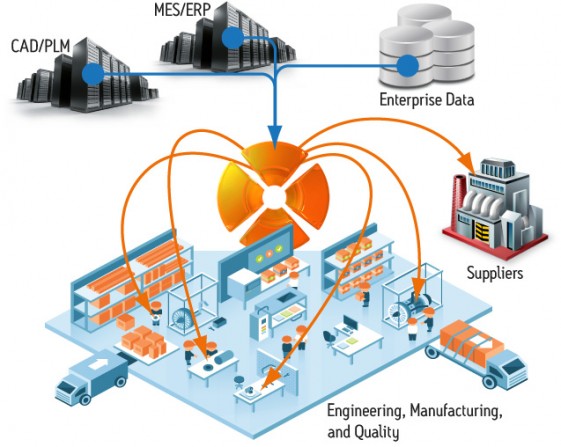 The trend among enterprise manufacturers in recent years has been to transition from traditional 2D engineering drawings and loosely-coupled database reports, towards a unified electronic MBE process leveraging 3D PDF documents. These model-based reports ideally include authoritative data from multiple data sources, including PLM and ERP. Anark says a natural next step is the need to leverage such a capability throughout the manufacturing enterprise to better facilitate inter-organizational access and collaboration.
"Now that many of the world's most innovative manufacturing enterprises have been successful generating multi-data 3D PDFs in full production for their manufacturing supply chains using Anark Core, our customers are now asking for a software solution that can reach out across the extended enterprise," says Scott Collins, Executive VP of Product Development at Anark Corporation.
MBEWeb provides hosting and collaboration capabilities within Anark Core, allowing recipe-driven HTML and WebGL 3D content to be published into a distributed cloud application environment. A flexible template-based cloud application framework supports a wide variety of use cases in engineering release, supply chain collaboration, quality inspection planning and execution, manufacturing process planning and execution, and product service operations.
Anark says design engineering data from 3D CAD with MBD, 2D drawings, and other contextually-related tabular data (such as system requirements, manufacturing notes, MBOM, bill of process, bill of characteristics, and field service data from IoT systems), can be synthesized together in a unified collaboration environment.
MBEWeb is customer-hosted software using Windows or Linux servers and cloud platform components. Anarks says this approach allows technical engineering and manufacturing content to be delivered closer to enterprise users at the edge of the network. Hosting and user collaboration is achieved through a distributed cloud application framework instead of a traditional client-server transactional database model, allowing the system to scale to hundreds of thousands of simultaneous users.
System requirements include SolidWorks 2012 SP1 or higher, Nvidia Quadro FX Series 1800 or better GPU, 4GB RAM, and OpenGL 3.0 or later.