The company has hired and trained 90 new sales reps for its expanding line of desktop 3D printers. Revenue guidance for the rest of 2012 is raised, due to the Objet acquisition.
Stratasys (NASDAQ: SSYS) reported first quarter record revenue of $45.0 million, a 30% increase from a year earlier. System shipments totaled 822 units for the first quarter of 2012, compared to 567 units for the same period last year.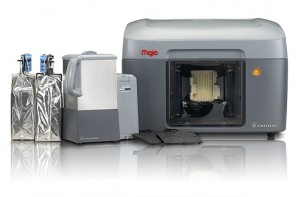 Net income was down a bit, at $4.5 million for first quarter, compared to net income of $5.0 million. Expenses related to the recent Objet acquisition and expanding the sales force are most likely behind the lower net income.
Solidscape Inc., acquired by Stratasys in May of 2011, contributed $3.4 million to revenue and 71 system sales, and was accretive to net income during the quarter.
Product revenue for the first quarter (ending March 31, 2012) was $37.5 million, up 33% from a year earlier. Services revenue in the quarter was $7.4 million, up 14% from a year earlier. Sales of the Fortus high-end 3D production system grew 61% year-over-year; Stratasys says use of these systems for direct digital manufacturing is increasing, resulting in higher unit sales and higher revenue in related consumables.
This week Stratasys introduced a new desktop 3D printer, the Mojo. Priced at $9,500, Stratasys is billing it as the first commercially-viable whole product 3D printer available for under $10,000. In the US it may be leased for $185 per month. The Mojo is the first fused deposition modeling (FDM) desktop printer in this price segment. It uses P430 ABSplus, the same sturdy material used in more expensive Stratasys products.
The company recently hired and trained 90 new sales agents who will focus on the Mojo and the uPrint, another low-cost Stratasys printer.
Because of the Objet acquisition, Stratasys is raising its revenue guidance for all of 2012, from between $175 million and $190 million to between $183 million and $193 million.
Cash per share on March 31, 2012 was $1.15, continuing a rising trend. CPS was $0.95 three months ago and $0.75 nine months ago.
Working its Mojo
The new Mojo 3D printer is the lowest-priced product that offers professional-quality output, comes as a complete package system, and uses industrial-grade thermoplastic material. It extends Stratasys farther into the mass market, and positions it well against 3D Systems and its recently acquired Z Corp division.
The 3D printer market has proved to be rather price elastic; there is a large pool of potential customers who will only consider printers under $10,000. Bringing true FDM to the under $10,000 market should be a profitable move.