When customers wanted simple simulation and animation in Factory Design Suite, Autodesk raided the Media and Entertainment cookie jar for technology.
When Autodesk released Factory Design Suite a year ago, it was to many people an unexpected addition to the product line. The suite contains both AutoCAD and Inventor and adds various interoperability tools designed specifically for factory design layout and presentation. While not giving us specific sales numbers, Autodesk says it is pleasantly surprised by how Factory Design Suite is selling.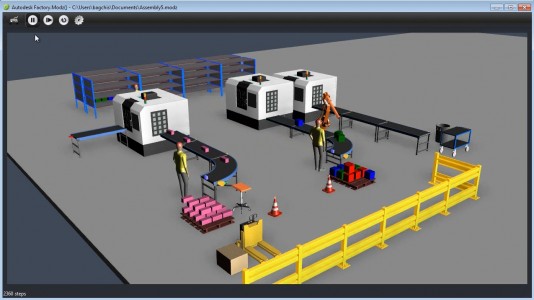 Now Autodesk is continuing to borrow bits and pieces of technology from various divisions to bring animation to factory design. The new Autodesk Labs project Factory.Modz() is a physics-based factory layout animation engine that works with Autodesk Inventor. The free download uses technology from Autodesk Kynapse, artificial intelligence software used to control character behavior in games. Putting Kynapse capabilities inside a factory layout suite opens the door to automated path finding operations for human workers and material handling devices such as forklifts.
The software is easy to use with mostly drag-and-drop placement of objects. A CAD novice could figure out how to use the software in five minutes; Charlie Chaplin could have used this software to plan his factory scenes in "Modern Times." The underlying physics engine—also borrowed from Autodesk's Media and Entertainment division—enables animation of machine lines with realism. Animations are simple; you basically click a button and the factory goes to work. If a conveyor belt is set too fast, boxes will fly off unpredictably, just as they would in real life.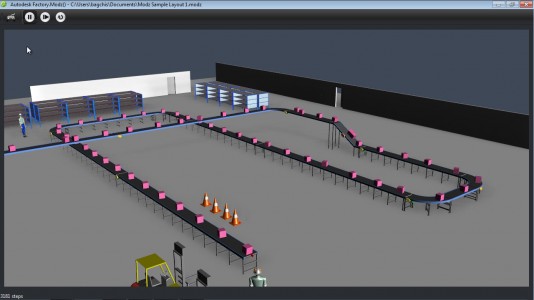 Product Line Manager Shibai Bagchi says there were two major drivers pushing Autodesk to create Factory.Modz(). Existing Factory Design Suite customers wanted animation to show off design intent, and realistic simulation to test design plans. Typical CAD animation requires placing camera and defining paths, and is a complicated process. Typical CAD simulation software was just too complicated. So Autodesk raided the Gameware cookie jar and was able to assemble a factory design tool that uses real-world physics and simple animation.
Factory.Modz() supports all Autodesk Product Design Suite and Factory Design Suite 2012 and 2013 editions (because it works with Inventor, which is in both suites) as well as stand-alone Autodesk Inventor 2012 and 2013. The download is free. As with most Autodesk Labs releases, Factory.Modz() has a time limit; the current version run through July 31, 2012. Autodesk reserves the right to update it at any time, and there is no direct user support. Instead, Autodesk offers a public online forum where developers and users discuss issues.