Canon, RED, and Panasonic talked about 4K resolution. Blackmagic Design stole the spotlight with a 2.5K video camera promising feature film quality for $2,995.
This year's show stood in contrast to NAB of the last two years. Previously, stereo 3D was a major topic of conversation. Now, the emphasis is on 4K resolution. At NAB, high-end digital camera maker RED had nothing but promises for the future, but they were pretty good promises. RED says it will have a 6K sensor soon.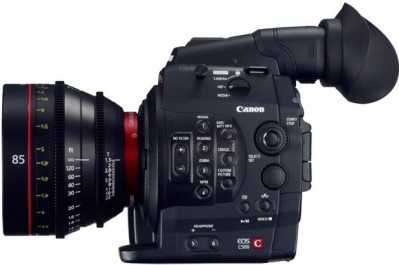 One of the major stars of the show was Canon, which helped break open the professional film market for near-consumer-grade digital SLRs. The Canon EOS 5D Mark II has been getting a ride in action movies thanks to the quality of its output, its small size, and very competitive pricing. This year Canon showcased its new professional cameras for 4K production including the new C500. Its cousin, the C300 was introduced in late 2011 to go up against the RED and Arri cameras in production. The C300 has a 4K sensor that outputs to 2K and features warmer colors and better skin tones. We casually talked to professionals at NAB who backed up Canon's claim. The C500 uses the same sensor and outputs to 4K. Canon has also introduced a lineup of new lenses that will be the long-term money makers for the company. The C300 is about a $20K camera, the C500 is expected to run in the range of $25-30K.
Panasonic has been slow to roll out 4K cameras. This year at NAB, Panasonic showed off a concept 4K VariCam under glass. Panasonic says the new camera will be a large-sensor camera with 4K recording in Panasonic's AVC-Ultra compression. The quality of the content looked good in the demos as you might expect. The 4K VariCam will feature a modular design, with different IO and recording modules, and a strong housing designed to take a beating. Panasonic didn't really talk about the new camera much more. We think it significant that all the major companies are jumping on the 4K bandwagon.
Blackmagic Design enters digital camera market
It may have been a year of surprises at NAB, but Australian video technology manufacturer Blackmagic Design got in the biggest surprise with the introduction of its new digital camera due to come out in July. The Blackmagic Cinema Camera has a 2.5K sensor with 13 stops of dynamic range and an integrated high speed SSD recorder. The company has integrated color correction via its own DaVinci Resolve technology and it includes a touchscreen LCD with metadata entry. The new camera will be priced at $2,995.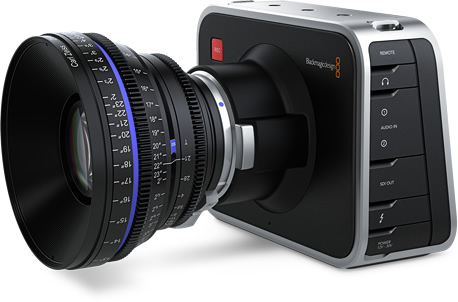 Blackmagic Design claims its new video camera can address shortcomings in sees many digital cameras. Their position is that the characteristic video look coming from digital cameras is the result of limited contrast, poor quality optics, and heavy video compression. The company believes their new camera addresses these issues and their integration of their own software technology enables a true "feature-film look" at an affordable cost. Indeed, the price is shocking.
The built-in SSD recorder supports open standard CinemaDNG RAW, ProRes and DNxHD files for use with Apple Final Cut Pro X and Avid Media Composer. The camera includes standard jack audio connections, a built-in high-speed Thunderbolt connection, 3Gb/s SDI output, a refrigerated sensor for low noise, and is fully compatible with Canon EF and Zeiss ZF mount lenses.
The Blackmagic Cinema Camera has a built-in microphone, but it also has an external jack for mic/line level balanced audio connections. There is a built-in speaker for playback, and there is an included headphone socket, as well as embedded audio on the SDI output and Thunderbolt connection. The SDI output includes all camera data such as time code, transport control, shutter angle, color temperature setting and ASA information.
Most revolutionary is the inclusion of DaVinci Resolve for color correction and Blackmagic UltraScope software for waveform monitoring. UltraScope can be run on a laptop connected to the camera via a Thunderbolt connection.
Seduced by Blackmagic
Blackmagic Design is a wonderful crazy company. We started getting an inkling of that when it announced the acquisition of DaVinci at IBC 2009. That's when you really appreciate an expression like gob-smacked, and we were. With this introduction of this new camera we can see the path the company is taking to build its own vision of an end-to-end workflow, and it is meeting competitor Aja Video Systems on every front.
This camera has to do a lot to compete with the new cameras arriving on the market for professional filmmaking. And yet, looked at from another view, with this price tag and the capabilities that Blackmagic has built in, it will find a niche for budget productions and clearly, Blackmagic is going to keep pushing the envelope.