The quarter benefits from the merger with Objet. The maker of 3D printers stands firm on its 2013 guidance.
Stratasys (NASDAQ: SSYS) reports record results for the first quarter of 2013, with revenue of $97.2 million, more than double 1Q12 revenue of $44.9 million. The large jump in year-over-year results is due to the 2012 merger with Objet. Net income was a loss of $15.5 million due to costs related to the merger. In the first quarter of 2013 pre-merger Stratasys reported net income of $4.5 million.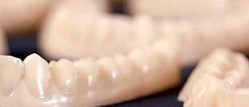 Breaking down revenue, product sales were $81.8 million, up substantially from $37.5 million a year ago.
Services revenue was $15.4 million, up from $7.4 million in 1Q12.
Stratasys CEO David Reis says there was "strong worldwide demand" for their 3D printers in the quarter, especially in the higher-margin industrial printers. 3D Systems also said demand was highest for its industrial printers when it reported last week. Both companies produce a full line of 3D printers, from hobbyist to Fortune 500 manufacturing.
Stratasys spent $10.8 million on research and development in the quarter, representing 11% of sales. On a combined basis, Stratasys has shipped a cumulative 30,984 systems worldwide in its history as of March 31, 2013. During the conference call with analysts to report results, Stratasys also reported these 1Q business highlights:
Completed the second phase of Stratasys reseller cross-training ahead of schedule, with 112 channel partners now cross-trained, representing approximately 80% of the Company's potential worldwide revenue.
Progressed according to plan in the sales, marketing and service team integration that resulted from the merger of Stratasys, Inc. and Objet Ltd.
Launched a combined post-merger web and social media strategy that includes an integrated web site and social media channels.
Initiated a merger-related re-branding campaign to increase the awareness and value proposition of Stratasys among "C" level business professionals.
Launched the first 3D printer designed especially for smaller orthodontic labs and clinics, Objet OrthoDesk.
Stratasys did not adjust its revenue forecast for 2013, of full-year revenue of between $430 million and $445 million, but it did comment that it expects revenue growth to be stronger toward the end of 2013.