We offer our pre-conference picks for the top presentations and exhibits.
The Siggraph 2013 advance program is now available, allowing those planning to attend the annual conference and exhibition on computer graphics to plan their schedule.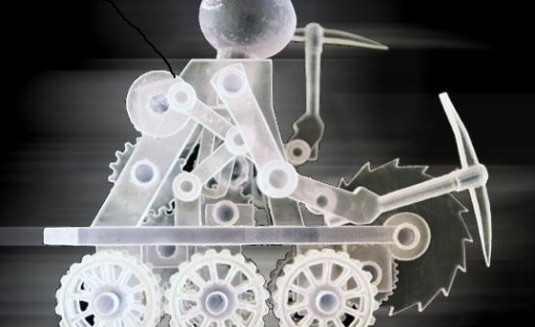 In the five full days of conference and exhibition include:
152 Technical Papers
120+ Posters
80 Computer Animation Festival pieces
75 Talks (includes Studio and SIGGRAPH Mobile)
56 Birds of a Feather sessions
45 Dailies presentations
23 Courses
17 Production Sessions
16 Emerging Technologies demos
15 Art Gallery works
11 Studio workshops and 12 Studio projects
10 Real-Time Live! demos
7 Art Papers
Full details on scheduled sessions is available at: http://s2013.siggraph.org/attendees/siggraphitti/siggraphitti-issue-2-may-2013#part2
Here are some of our recommended highlights by category:
Production Sessions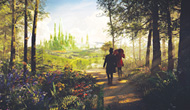 Sony Pictures Imageworks Presents: Take a Journey Down the Yellow Brick Road. Sony Pictures Imageworks, under the direction of VFX supervisor Scott Stokdyk, created the majority of the visual effects for Disney's "Oz the Great and Powerful." As a cinematic prequel to L. Frank Baum's first book The Wonderful Wizard of Oz, the film explores the backstory of the wizard character. The goal of the film was to create a beautiful stylized environment for the land of Oz and bring to life computer graphics characters that accompany Oz on his journey, including Finley the monkey, the porcelain China Girl, and various creatures that surprise them along the way.
Industrial Light & Magic Presents: 'Cancel the Apocalypse' – The Visual Effects of "Pacific Rim." From aliens that threaten Earth's very existence to massive human-piloted robots, this panel will discuss the wide-ranging scope of Industrial Light & Magic's effects work on Guillermo del Toro's science fiction epic "Pacific Rim." The artists will cover creative and technical challenges overcome in the areas of asset development, character animation, lighting, digital environments, advanced fluid simulation work and more.
Courses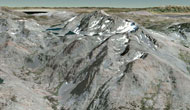 Rendering Massive Virtual Worlds. This course explores issues associated with rendering massive virtual worlds in real time. Topics include: procedural content generation, data compression and transmission, out-of-core rendering, and virtual texture applications.
Lights! Speed! Action! Fundamentals of Physical Computing for Programmers. This course covers the use of basic electronics and hardware interfacing in simple physical-computing components, including LEDs, servos, motors, sensors, and switches.
Art Gallery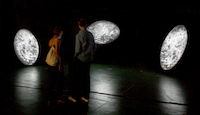 Digiti Sonus is an interactive audio/visual art installation based on fingerprint sonification. Transforming the unique patterns of fingerprints into sonic results allows the audience to discover sensory identities. The sonification of data produces a real-time music composition as a representation of integrated human identities. The distinct visual features of fingerprints as an open musical score are executed in diverse ways and converted into three-dimensional animated images. By controlling the starting point of animated visuals, the musical notes are reorganized in different orders and duration, which resonates with attendees' bodies and minds.
Emerging Technologies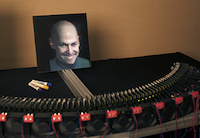 An Autostereoscopic Projector Array Optimized for 3D Facial Display. Video projectors are rapidly shrinking in size, power consumption, and cost. Such projectors provide unprecedented flexibility to stack, arrange, and aim pixels without the need for moving parts. This dense projector display is optimized in size and resolution to display an autostereoscopic life-sized 3D human face. It utilizes 72 Texas Instruments PICO projectors to illuminate a 30 cm x 30 cm anisotropic screen with a wide 110-degree field of view. The demonstration includes both live scanning of subjects and virtual animated characters.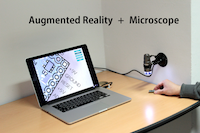 MicroTips: Augmenting Information for Microscopic Inspection. In the micro-scale world, simply printing some text on micro-scale objects requires serious effort, which generates a significant increase product cost. This project applies augmented-reality techniques to micro-scale objects to overcome the issue. By presenting the given data in the microscopic field of view, MicroTips can enrich information once considered difficult to contain in micro-scale areas. The project suggests three kinds of applications: augmenting information, interacting with the microscopic field of view, and simulating an experiment.
More information on Siggraph 2013: http://s2013.siggraph.org/