Autodesk is ready to roll with new Stingray game engine that enables game developers and architects to create interactive content using Autodesk and industry standard tools
Last year Autodesk bought Swedish game development company Bitsquid, soon after announced the development of the Autodesk Stingray game engine. The response was reasonably positive, tinged with a bit of the usual suspicion about what Autodesk might do with a game engine and how much it would cost. However, plans for a game engine didn't come as much of a surprise. Autodesk has been filling out its game development portfolio with the acquisition of Illuminate Labs in 2010 for Beast and interface developers Scaleform in 2011. Autodesk's Motion Builder, which came with the acquisition of Alias in 2005 is an industry standard for working with motion capture content. That Autodesk might buy or develop a game engine seemed an obvious step.
Now, Autodesk has come to the Cologne Game Developers Conference to show off the new engine – a deft move in the light of Bitsquid's European roots.
One of Bitsquid's major customers was Fatshark and that's because the two companies have had strong bonds between them. Bitsquid was founded by Fatshark CEO Martin Wahlund and the company is actively using Stringray as their in house engine for games including  Warhammer: End Times —Vermintide and War of the Vikings. Bitsquid was developed to be modular and data driven to enable developers to use whatever tool they want and easily switch modes from design to programming. Another advantage of the modular design is that the process is resilient; a crash in one tool won't bring down the whole process.
Bitsquid, then, was made to order for Autodesk, which has been pursuing a dream of smooth interplay between its content creation tools and game engines. The company has also been working on smoothing the interplay between its own tools and as a result, says Autodesk director Frank DeLise, the company has developed industry-leading exporters and workflows between its products and other game engines. Once they acquired Bitsquid, the company went to work incorporating that technology to make the Bitsquid game engine a hub for game development. The new Stingray supports Autodesk's Beast for lighting, HumanIK, Scaleform, Navigation, Nvidia's PhysX, and Audiokinetic's Wise, for audio editing; but it's not an exclusive deal. The Stingray SDK enables other tools to play along and Autodesk's middleware is going to continue to support Unity, Unreal and other game development tools. Autodesk execs underscore their desire to be an active partner in the game development eco-system.
The core advantage for Stingray is that it gives game developers easy interplay between design and implementation. Live links ensure that updates in tools such as Maya and Max will flow to Stingray where models will be updated. As DeLise said during a demonstration for press and analysts, "this is something only Autodesk could do." Mobile developers can also see how their game is going to work with direct links to mobile devices.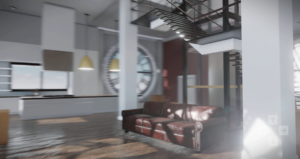 In addition, Stingray will fit into the broader ecosystem the Autodesk is building with the Creative market which will enable people to share tools, shaders, assets, etc.
Stingway also has its own set of advanced tools for rendering and effects. It features physically-based shading, particle effects, post-process visual effects, lightmap baking and reflections and enables developers to tweak content from within the game engine.
As it has with its Maya LT version of 3D modeling and animation software, Autodesk is trying to accommodate all levels of game developers and its tool set includes Lua scripting, and visual node-based scripting tools like those developed for the Autodesk/Softimage Ice module.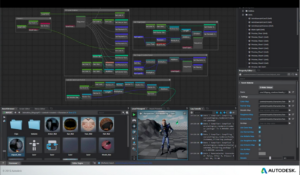 The company says it will also make C++ source code available as an additional purchase.
All of which does bring the question around to does the world really need another game engine? Many game developers have already developed their own tools and others are working with Crytek's CryEngine, Unity or Unreal to name the best-known third party engines.
Well why not? Autodesk says it's answering a common frustration experienced by game developers as they negotiate the headaches and surprises of transporting assets from modeling tools, working with middleware, exporting to game engines and making trips back to edit game assets. Sure, it can be done, but maybe it can be done better.
DeLise says Autodesk recognizes that there are developers whose IP is wrapped up in the tools they have developed. He believes that Stingray will still come in handy as a tool for prototyping game development or for testing assets.
He notes that developers working with Stingray will have more ownership of their work because there is no royalty hit associated with Stingway.
One more thing
Autodesk has actually talked quite a bit about the coming Stingray and it's not a totally unknown product for game developers. But, Autodesk had one more little surprise for Stingray, and that's integration with Revit and as well as Autodesk's entertainment content creation tools. Rick Davis, sesign visualization marketing at Autodesk says the new Stingray for Architecture tool let people bring data from their BIM model into Max from there take it into the Stingray engine where they create a full interactive world. It's a very dynamic way for architects to let customers see how their building will actually work. Customers and designers can walk through a building and collaborate.

Stingray will be available on August 19, 2015, and it will be available as a subscription in a variety of options including basic and advanced support and monthly and annual packages. What Autodesk really wants game developers to know is that it will be free to Maya LT subscribers, which is basically $240 a year. Autodesk's message? If you want Stingray, you might as well buy Maya LT and get both for the same price.
What do we think?
Autodesk has been working on this piece of the game development puzzle for a long time. Long before the acquisition of Bitsquid but Stingray comes at a time of furious game development as new consoles, new platforms such as VR and AR stimulate new kinds of games, and mobile and online gaming boom. At the same time the AEC industry is on the rise, and BIM workflows encourage better visualization and simulation.