Over 1,200 new features including broader raster image support.
The IntelliCAD Technology Consortium has released a new version of its CAD development platform. ITC technology is used by CAD vendors to create custom products based on the dwg design file standard popularized by Autodesk.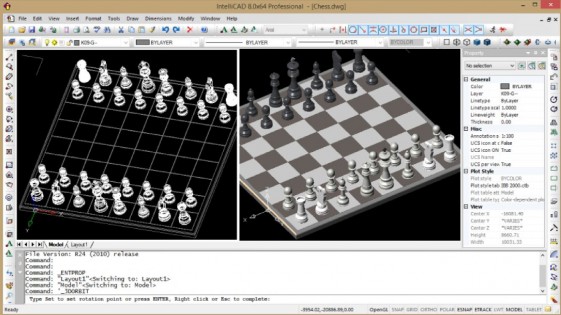 IntelliCAD Version 8 includes support for the latest 2014 .dwg file format and ships in 64-bit and 32-bit versions. Major new features include layer states, layer filters with search, layer transparency and viewport freeze, .cui custom menu files, quick select, 3D orbit, additional grid capabilities, Collada (.dae) file import, and MrSID MG4 compressed raster image support.
By categories, here is an overview of new features and capabilities:
Working with Files:
Open, save, and work with .dwg files of version 2014.
Work with image files in both IntelliCAD Professional and Standard versions. Additionally, more raster image formats are supported in IntelliCAD Standard.
Create custom rendering materials and mapping projection planes in both IntelliCAD Professional and Standard versions.
Import Collada (.dae files).
Improved support for Bentley MicroStation DGN overlays, Civil3D, ADT, and mechanical object enablers.
Attach MrSID MG4 compressed raster images.
Performance Enhancements:
Increased cursor speed.
Improved PDF export performance and reduced resulting file size.
Improved performance for multiple sessions on multi-core machines.
Improved Print Preview zoom performance.
Viewing Drawings:
The grid can be drawn as lines or dots, can display beyond the drawing extents, and can be adaptive, which includes automatic resizing and subdivision based on the zoom level.
The Dynamic Viewpoint command was enhanced to include multiple ways of selecting a point from which to view three-dimensional entities.
3D Orbit technology allows users to orbit a drawing, (rotate the view). Commands includes Constrained Orbit, Free Orbit, Continuous Orbit, Constrained X Orbit, Constrained Y Orbit, and Constrained Z Orbit.
Layers:
Manage layers with layer states.
Search for layers by name.
Filter layers.
Layer properties include Transparency and Viewport Freeze.
New Layer Tools menu and toolbar.
Rendering:
Rendering interface redesigned and enhanced.
Complete rendering features are now available in IntelliCAD Professional and Standard versions.
APIs:
IntelliCAD 8.0 uses Teigha version 3.9.1 from the Open Design Alliance.
IntelliCAD 8.0 uses VBA 7.1.
A variety of new LISP methods
A detailed list of new features and fixes is available on the ITC website.