Autodesk discontinues its game development engine, Stingray.
Through its various reorganizations, and refocusing exercises, Autodesk has worked hard to try and expand the market for its entertainment software into its customer base of engineers and designers. The dirty little secret about the transferring CAD models for use in other applications is that it's difficult. How difficult depends on the applications, their friendliness to each other, and the complexity of the data. Autodesk bought Kaydara in 2006. The company had a realtime, online content creation suite Filmbox, which used the FBX format for data exchange between modules and outside applications, including Autodesk's. Autodesk has fine-tuned FBX for easy data transfer. In addition, Autodesk bought Bitsquid for its game engine. Renamed Stingray, Bitsquid was added to Autodesk's growing arsenal of game development tools. Unfortunately, Autodesk's timing was not great nor was its implementation. Autodesk seemed uncertain about whether to support Stingray as a product to develop applications using content created in its tools or to plunder the technology for its various products including Max, Maya, and Flame. The interconnection with the CAD world didn't fully materialize either. Autodesk introduced Project Expo as a tool to transfer Revit files to Stingray, but it seems to have foundered relatively early.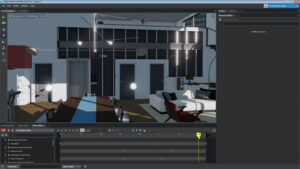 When Autodesk bought Stingray, people were just beginning to tinker with game engine tools Unity and Unreal, which those companies were making easily accessible and [sort of] easy to use. In true Autodeskian fashion, the company decided to try and cut those companies off at the pass and offer its customers Stingray instead. But, as mentioned, there didn't seem to be a clear-cut strategy for taking the product forward.
In the end, Autodesk announced that Stingray would be shut down. In the company's FAQ, Autodesk has said:
As of January 7, 2018, subscribers will no longer be able to purchase or renew Autodesk Stingray subscription.
When their current subscription expire, they will no longer be able to use the software.
Autodesk will no longer develop Autodesk Stingray as a separate product, but will continue to include Stingray functionality as part of Maya LT and 3ds Max (3ds Max Interactive).
Games previously shipped with the Stingray engine will not be affected by these changes.
The company said they are shifting their focus because customers were going to Unity and Unreal to develop interactive applications. One of the arguments Autodesk made on its site is that the commercial engines are being continuously enhanced for customers and are adapting to changing markets.
Autodesk and Unity announced a strategic partnership in October 2017 to more easily enable data exchanged of content created on Autodesk's tools.
On the Unreal side, Epic has introduced Datasmith as in intermediary application for CAD programs. For instance the company claims that early beta participants working with Datasmith rather than FBX have seen productivity gains of up to 70%.
What do we think?
It's a new day for Autodesk. The company still seems a little queasy about interoperating with other companies but it's a feeling that seems to come and go for the company. Especially when customers demand interoperability. Forge has been introduced as a way for Autodesk to extend its technology to new customers. Game engines are one frontier for interoperability and so are virtual studio tools such as the Foundry's Elara. The Foundry is also introducing Project Bunsen as a tool that can help CAD users create a streamlined pipeline to automate some of the routine tasks involved in data preparation for animations, visualizations, etc.
Related articles:
Forging a new Autodesk: Reinventing manufacture
Autodesk puts VR links into Stingray and Maya LT