The standard version is a viewer; the pro version adds mark-up, cross-sections, and measurement.
SolidWorks has released an update to its Pro version of eDrawings for iPad, a 2D/3D mobile viewer. Compared to the original version (still available) eDrawings for iPad Pro adds various new tools for mark-up, section views, and measurement.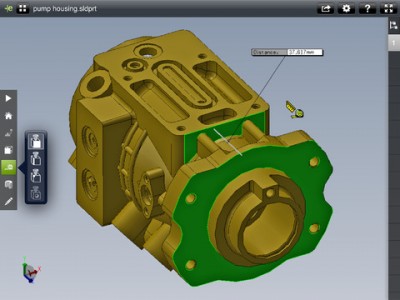 Primary features of eDrawings for iPad Pro include:
Redesigned interface compared to eDrawings for iPad version 1
Performance improvements
Open 3D (EASM, EPRT, SLDASM, SLDPRT), 2D (EDRW, SLDDRW, DWG, DXF) and associated files from a wider variety of sources: email attachments, cloud storage services (Dropbox, SkyDrive, YouSendIt, others), email, web and FTP sites, networks, and iTunes File Sharing
Zoom, pan, and rotate 3D and 2D CAD data using multi-touch
Browse assembly components tree, model configurations and drawing sheets
Hide, show, or make components transparent
Select View mode offers standard orthogonal views, shaded with edges, perspective view
Play animated 3D standard views as well as 2D drawing views
Double-tap to zoom to full screen or to zoom into drawing views.
Mark-up designs and send to others and read others' mark-ups
Measure design data
View cross sections of 3D designs
The purchase price of $4.99 is listed as a "special introductory price." The product is compatible with iPads running iOS 4.3 or later.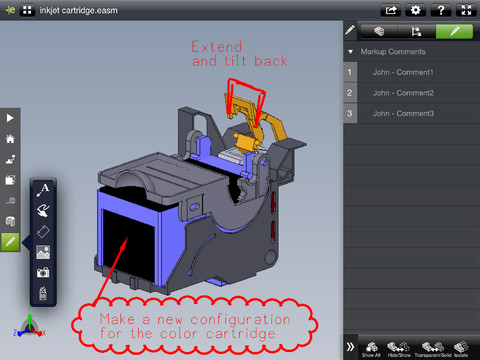 Our take
When initially released, eDrawings for iPad only supported file sharing in iTunes. Now that it supports a wide range of cloud drives as well as more traditional sources, this product should appeal to a wider audience.
Related
Finally a SolidWorks app for iPad