Dassault Systèmes says SWMC opens the door to all its applications for SolidWorks users.
[Editor's Note: Since this article was published, contributing analyst L. Stephen Wolfe, P.E. has written a review of SolidWorks Mechanical Conceptual:
https://gfxspeak.com/2014/02/03/business-solidworks-mechanical-conceptual/]
By Randall S. Newton
The cat is officially out of the bag. On April 2, 2014 Dassault Systèmes SolidWorks will launch SolidWorks Mechanical Conceptual (SWMC), the first piece of next-generation SolidWorks technology. The new product empowers the proverbial initial napkin sketch the way earlier CAD programs empower the drafting board, but goes beyond initial conceptual sketching with a variety of tools for design, simulation, and collaboration.
The press release issued today at SolidWorks World 2014 in San Diego did not include pricing information, but reporters on the scene are tweeting that the new product will be available on subscription licensing for $249 per month.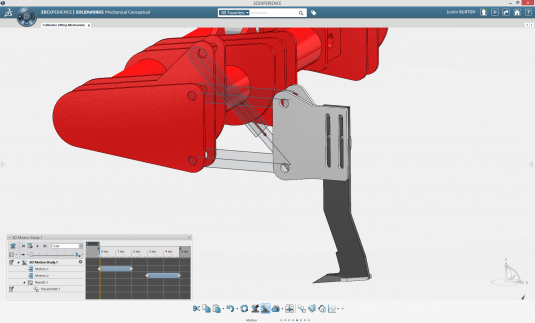 Dassault calls SWMC "complementary to the current and continuing version" of SolidWorks but is also spinning it as the doorway to "a new generation of process experiences for the worldwide CATIA community," says DS SolidWorks CEO Bertrand Sicot. "Because of this, the cooperation opportunities for SolidWorks users are profound. This opens the door for our customers across multiple industries and companies where Dassault Systèmes and its other applications are significant players."
Dassault Systèmes brought early users to San Diego to talk about how they are using SWMC. "I used the Concept Archive to investigate and test different ways of developing my idea at the same time. There are quite a few ways I can develop my concept, but my fundamental constraints remain the same," said William MacLeod, Senior Engineer, Kennedy Hygiene. "With SolidWorks Mechanical Conceptual, I was able to rapidly produce three or more concept configurations in the time it would take to produce one in conventional 3D CAD solutions. I can quickly iterate on a design and move the selected concept into SolidWorks for final detailing."
Presentations at SolidWorks World so far have elaborated on the various ways SWMC extends conceptual design on the computer, citing four keys in their press release:
Conceptual:  SWMC is said to be useful to quickly capture design intent and to work with ideas, including basic simulation capabilities.
Instinctive:  SWMC uses direct editing design tools in a "structureless modeling environment," dropping the overworked "intuitive" to describe its approach.
Social: Features from other Dassault Systèmes products, including the SWYM community site "allow users to harness the collective intelligence of their company, customers and vendors."
Connected: DS never uses the word "cloud" but is taking advantage of cloud technology in the background to automatically save design iterations and to make them accessible.
What do we think?
It seems like we've been writing about this product forever. In a bit of unguarded openness in 2010, senior management started talking about the "next generation" SolidWorks product, a disclosure that took on a life of its own as users and the tech press speculated endlessly about what it meant for the existing product. SWMC is not a replacement for SolidWorks in and of itself, but as Dassault Systèmes adds more modules to what will obviously become a family, someday it will be. At SolidWorks World Day 1, the company offered a "sneak peak" at Part 2, "SolidWorks Industrial Modeler." Dassault Systèmes must move forward in creating the next generation mainstream mechanical modeler; SWMC is our first glimpse of what that will be.
You might also like:
Autodesk's latest announcement around Fusion 360. The company managed to announce new features and new pricing for Fusion 360 just ahead of SolidWorks World. Coincidence? We think not.