Making good on promises and confirming rumors, new SolidWorks Mechanical Conceptual is based on Dassault Systèmes "3D Experience" technology.
This week at SolidWorks World 2013 in Orlando Dassault Systèmes introduced a new product for early-stage design work. SolidWorks Mechanical Conceptual (SWMC) is designed as a complementary product for SolidWorks users. It takes advantage of existing technologies from Dassault's "3DExperience Platform," also known in the industry as V6.
The introduction of SWMC at SolidWorks World in Orlando was a preview; the product is not yet ready for outside testing. SolidWorks CEO Bertrand Sicot said the company is looking for a few SolidWorks users to do production testing starting in May, with the goal of a general release in October.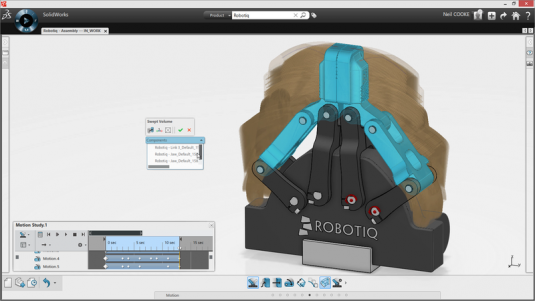 Sicot was quick to say the test cycle was "not a beta test." When software is released for beta testing, it is generally understood to be in its final stages. When first announced at a press event in Boston September 2012, the suggested release date for SWMC was May 2013, which is now the anticipated start for outside testing. In a Q&A with the press, product development lead Fielder Hiss said one of the most important things to be tested will be interoperability with SolidWorks. "It is a huge focus—and our immense responsibility—to make sure data moves forward" from SWMC to SolidWorks. It also came out during the press conference that SWMC in its current form still requires too much desktop computation. The goal for SWMC is that it will be at least cloud-friendly, if not completely cloud-deployed like forthcoming competitor Fusion 360 from Autodesk. Hiss said work continues to make it less dependent on the desktop.
Software taking longer than originally expected is not unusual, but generally such dates are only known in-house. The SolidWorks team has a monkey on its back in that it has been talking in one way or another about a V6-based SolidWorks since former CEO Jeff Ray spilled the beans at SolidWorks World 2010. As this news site's predecessor reported then: "… every journalist, analyst, and blogger in attendance came away convinced Catia technology will appear inside SolidWorks soon."
Why conceptual design?
In making the case for having a conceptual modeling tool as the first SolidWorks product using V6 technology, the company sites cites its own research to claim:
31% of project time is spent on conceptual mechanical design
Three out of four engineers are engaged in conceptual design
There is an average of three internal and two external stakeholder groups involved in the concept phase.
SolidWorks Professional is positioned as a detail design product "but it limits your creativity" for conceptual, early-stage design, says Sicot. "Most systems force you to think about product structure in order to capture ideas," whereas SWMC is designed to capture and test initial concepts without the need to settle on specific details.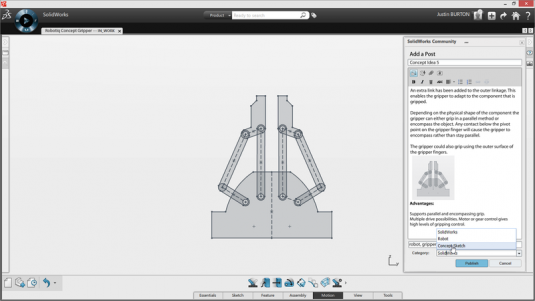 Product features
When discussing SWMC, Dassault personnel emphasized three themes: simplicity, social, and connectivity. In a statement announcing SWMC, Sicot said the overriding development goal was to "leverage the strengths and capabilities of the Dassault Systèmes 3D Experience Platform and build a new experience that is as intuitive and easy to use as the SolidWorks tools you use today."
Simplicity: A recurring theme among Dassault executives was the idea of SolidWorks being the "simplicity" brand in the company. "We will continue to use what SolidWorks has developed," said DS CEO Charles; "We don't need to develop applications twice." SWMC will allow pencil-like strokes to outline product shapes, and offers a set of more familiar CAD tools to evolve the initial ideas. While no specifics were demonstrated, DS staff said SWMC will merge the benefits of history, parametrics, and direct editing into a single interface.
Simplicity was also stressed when describing the new product's ability to provide rudimentary motion simulation. Most products designed in SolidWorks have moving parts, making the ability to test motion a crucial part of early design.
Social: At any point during the design process, SWMC will allow users to connect with others through a private community. Stakeholders are notified there is a concept to review, and can provide feedback. The technology for these connections comes from recent Dassault acquisitions Netvibes and Exalead as well as such products as 3DVIA Composer.
Connectivity: SWMC will be a cloud-based app, allowing it to use an external database that others can share. Undoubtedly this is based on Enovia technology, the underlying database for Catia. Benefits of an external database include automatic save of every iteration, extra protection from local hardware failure, and access to external users.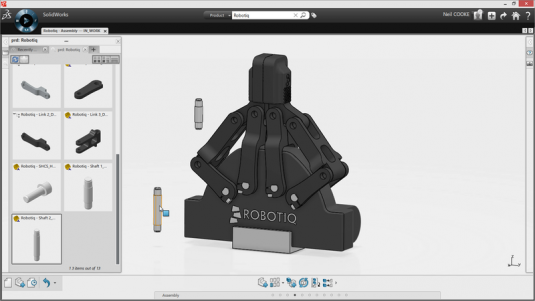 Our take
The introduction of SWMC was long on themes and short on details. This is a product that was more than three years in the making and is not yet finished. There were false starts, we were told informally, as product definitions changed, technology evolved, and personnel came and left the project. R&D at SolidWorks is now clearly divided into two teams, one focused on the SolidWorks of today under the direction of Craig Therrien, and the other working on the V6/3D Experience technology, led by Hiss.
Reading between the lines, so to speak, of what was said at SolidWorks World, it seems two critical challenges remain before SWMC will be a selling product. It must prove to be fully and seamlessly interoperable with SolidWorks, and it must be more cloud-based.
Interoperability has always been a significant challenge in the 3D CAD industry. 3D kernels are complicated. Dassault's 3D Experience platform uses the CGM 3D kernel; SolidWorks uses the Parasolid 3D kernel from Dassault's rival Siemens PLM. Completely accurate automated moving of files from Catia V5 and V6 is not commonly possible, and they share the same 3D kernel. Most of us can only imagine the complexity of moving between CGM and Parasolid.
When Dassault introduced V6 technology in 2008, it was described as web-aware, something completely different than cloud-based. The notion of cloud technology as known today was in its infancy then, and the term had not yet come into general use.
Both these issues are complex and not yet completely solved; if they were, the product would be on the market. It would not be the least bit surprising if the stated deadline of October for a shipping version of SolidWorks Mechanical Conceptual is also a work in progress.
Related
Coming Soon to SolidWorks: Enovia and Catia
SolidWorks 2013 will launch as legacy software