The portfolio keeps growing; some of the new products come from the Dassault Systèmes 3D Experience side of the house.
By Randall S. Newton with L. Stephen Wolfe, P.E.
[Editor's Note: Larger versions of the images in this article are posted at our Facebook page.]
Since 2010, a dark cloud of questions has been hanging over the Solidworks division of Dassault Systemés regarding the future of the company's eponymous, market-leading 3D CAD software. Several "look but don't touch" demos of "possible future software" and statements about the next generation of Solidworks switching to the same geometry technology as Catia, which is not perfectly compatible with the Solidworks core geometry, kept customers and resellers muttering about the future.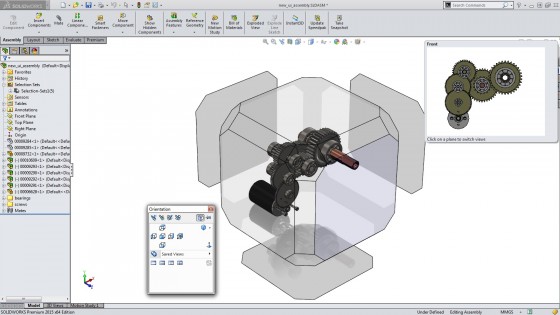 Previews of new software for the Solidworks portfolio based on what Dassault now calls the "3D Experience" platform only made the cloud seem more ominous. Dassault's 3D Experience platform includes a common interface program with technology that allows companies to create shared information systems around a project. The 3D Experience tool will help tie together Dassault's CAD and PLM products including Catia, Simulia, Enovia, Delmia, and Solidworks. The 3D Experience Platform app provides access to content created in Dassault's products and also information related to a project via a common interface.
Solidworks is now rolling out its 2015 portfolio, and while there is truly interesting news to report about Solidworks and several of its add-ons, the real news is a weather report: the dark cloud is gone. "Solidworks is not going away," said division CEO Bertrand Sicot, specifically in reference to the core CAD product. He said it could easily be around in its current form another 10 to 15 years. This year's updates prove the company is serious about keeping its flagship software fresh and vital.
The Solidworks portfolio now consists of 19 separate products, including a variety of tools for simulation, plastic injection molding, electrical engineering, and technical documentation. While many of these products are tuck-ins that appear inside Solidworks, several are complementary applications that have their roots not in Solidworks but in the 3D Experience technology that shapes the rest of Dassault's products.
MBD goes mainstream
For years automotive and aeronautics engineers have discussed (and begun to implement) MBD, a sea change in which all engineering data is delivered to manufacturing people (or to customers) not as stacks of 2D drawings and accompanying model files but as 3D model files with product manufacturing information (PMI) attached. A few small vendors (including Anark and Lattice 3D) have made a living making software to support MBD for companies such as Boeing and Ford.
But the MBD conversation always seemed to be at the high end of the market. Three recent changes are bringing MBD to mainstream engineering:
Under the care of TechSoft 3D, 3D PDF has gone from a good idea to a good technology.
The U.S. Department of Defense announced the goal of mandating the use of MBD for delivery of technical data.
Smaller companies, mainly in the consumer product field, have embraced model-based definition to save time and money.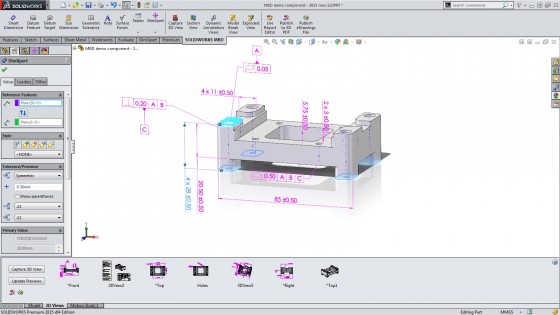 Solidworks is the first mainstream CAD company to respond, introducing Solidworks MBD as a new product in the 2015 portfolio. The product enables Solidworks users to fully implement ANSI standard Y14.41, which specifies how 3D annotations should be attached as named views to 3D models. To our knowledge, no other mid-priced CAD vendor has accomplished this.
Solidworks claims the use of MBD for drawingless product detailing and 3D PMI delivery can save up to 50% on product development costs, by reducing rework, scrap, tooling, and fabrication. Solidworks MBD supports both 3D PDF, fast becoming an industry standard, and its own eDrawings 2D/3D display technology, which is popular among Solidworks users.
In 2005 Solidworks surveyed its user base and found 1.5% of them wanted to use MBD. A similar survey last year found 16% wanting to use MBD in Solidworks. The product will be sold separately from the regular Solidworks packages. The initial license fee is $1,995 plus an annual $495 subscription for support and future upgrades. Those 16% of users will provide more than enough early adopters to justify the development.
Delaying the handoff
When 3D CAD started to take off in mechanical engineering, it was a tool for design. When a design was complete, the data was passed along to others for QA/inspection, costing, simulation and analysis, tooling, and documentation; there was considerable rework in 2D. With each annual release of the Solidworks portfolio, the company has provided more tools to keep the larger engineering/manufacturing process inside Solidworks longer.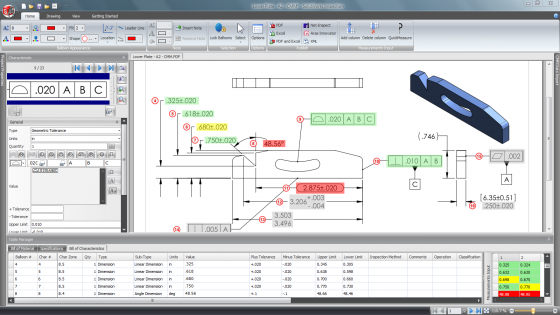 A few years ago Solidworks introduced a costing module, which was an instant hit among users. This year Solidworks introduces Inspection, another plug-in and standalone application to automate the tedious process of creating inspection sheets. The entry-level version costs $1,995 plus $599 for the annual subscription. For an extra $1,500 (and $1,049 maintenance), there is a premium version that enables users to enter measurements and collect inspection values from CMM software.
Another way Solidworks is delaying the handoff is with a new way to extract and display assemblies. Treehouse is a slick tool in core Solidworks for visual assembly structure planning, creation, editing, and viewing. It is an old idea with its roots in the Computervision era, but it's now possible to implement it in a modern interface.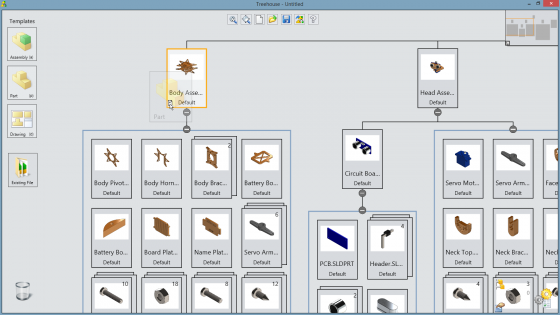 Part search
For years CAD users looked at what Google and others were doing in search and wished something similar could find geometry. Advances in both software and hardware now make it possible to search by both shape and engineering attributes. Siemens PLM acquired technology for this a few years ago; more recently, Dassault Systèmes acquired Exalead for its search technology.
Coming later this year to the Solidworks portfolio will be Exalead Onepart, software for searching corporate databases by part attribute or shape. The initial installation will be time consuming and pricey  but worth it not only for finding parts but for weeding out duplicate parts in inventory. No word yet on price or maintenance cost.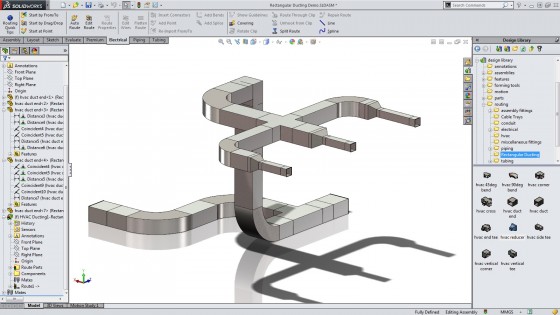 Little fixes everywhere
Much of what Solidworks does with each release is make hundreds of little improvements that keep users coming back for more. Notable among the 2015 tweaks are these advances:
File sizes have been reduced up to 50% compared to the previous version.
Customers can print directly to some 3D printers using the AMF and 3MF formats.
The Costing application now supports sensors, weldments, plastic/cast parts, machined castings, and 3D printed parts.
Simulation products now support Intel Solver and multi-core for contact detection.
Models can be exported to popular AEC applications.
A variety of step-saving improvements have been made to the 2D sketching tools for initial 3D model design.
The motion of roller/energy chains can be simulated using patterns along open or closed loops.
Radial exploded views can be made much faster.
HVAC ducting has been added to Solidworks Premium and Professional, which will likely be a welcome addition to the approximately 15% of the user base in construction-related fields.
Designers can flatten a curved surface to make a flat pattern, a valuable enhancement for designers of upholstery.
Collaborative sharing, the database and model-sharing capability of Solidworks Mechanical Conceptual (based on 3D Experience technology), has been adapted to Solidworks. Although it is not available initially in the 2015 portfolio, designers will be able to pack up their 3D assemblies and upload them to a database in the cloud for others to review. Version control is not included in this initial release, so it is not a substitute for the Enterprise PDM software. Pricing has not yet been set.
Mysolidworks.com, the online community for Solidworks users, adds file sharing through Dropbox and Google. Most features will be free to users on any Solidworks subscription.
Randall S. Newton is a Jon Peddie Research Contributing Editor; L. Stephen Wolfe, P.E. is a JPR Contributing Analyst.