Free direct modeling software requires Mountain Lion or later operating system.

The latest version of Autodesk Inventor Fusion for Mac is now available for download in the Mac App Store for the first time. This update requires OS X 10.7, "Mountain Lion," or the new 10.8 "Lion" update.
Autodesk Inventor Fusion lets designers freely explore complex shapes and forms, enabling rapid design changes with fewer limitations. Its 3D direct manipulation tools allow users to open and edit 3D models from almost any source and incorporate them into new or existing designs. The software, distributed by Autodesk Labs, is an ongoing "technology demo" available for free download. It differs from Autodesk Inventor in that Fusion allows direct editing of 3D models outside standard parametric and history-based relationships that govern most 3D solids modeling CAD products.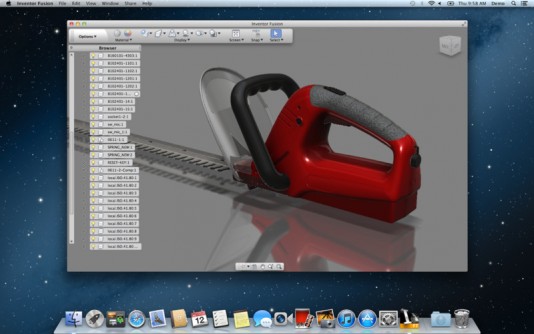 Autodesk Inventor Fusion key features include:
2D sketching–Start designs by using simple 2D sketch tools and control sketches with dimensions. Users can generate multiple shapes with 2D layouts.
Direct modeling–Users can push, pull and edit to reach the final desired result. Direct modeling helps users focus on the design task and not on complex modeling commands and dialogs.
Assembly design–Assemblies that mimic the real world make positioning and moving the design fast and predictable. Designing in context provides users with information to help make better design decisions. Flexible assembly structure ensures that users can make changes at any time.
Real-time visualization–Real-time navigation makes it easier to create and present designs.
Cloud storage–Store and share designs using Autodesk 360 collaboration service. Users can view designs on the go with Autodesk Viewers for iOS or WebGL-enabled browsers.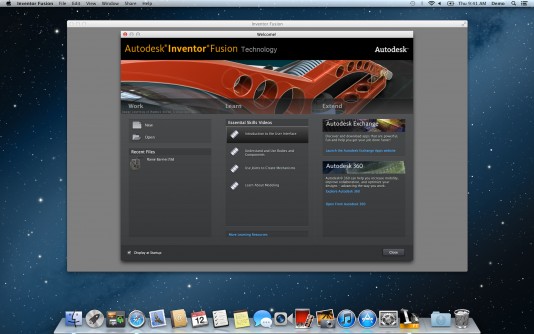 Autodesk Inventor Fusion technology for Mac takes advantage of new features in Mountain Lion including:
Notification Center–Autodesk Inventor Fusion technology for Mac works with Autodesk 360 cloud services and Mountain Lion's Notification Center so that users can receive notifications when files are edited, updated and more.
Sharing–Users can communicate more easily with colleagues, clients and friends to show off their designs or request feedback via iMessage, email and Twitter by using the Share button in Mountain Lion.
AirPlay Mirroring–Users can take charge in meetings with clients and colleagues by sharing the designs on the big screen with AirPlay Mirroring in Mountain Lion.
Autodesk says the software is fully interoperable with AutoCAD and Autodesk Inventor software and a variety of other Autodesk and third party CAD tools.