The $781 million purchase will improve the Siemens PLM simulation line and give them a new group of Dassault V5 users as customers.
Siemens today is acquiring LMS International, known for its simulation and testing software for mechatronics. The purchase allows Siemens PLM Software to extend its simulation capabilities from only virtual simulation to physical simulation of electronic parts and assemblies, using LMS's lab bench testing technology as well as its complimentary simulation tools.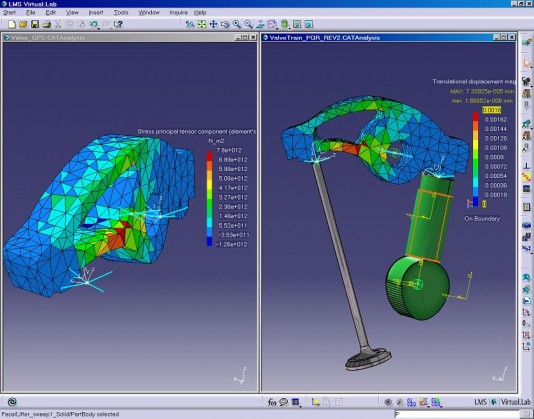 "Their integrated testing is unique," says Siemens PLM Software CEO Chuck Grindstaff. "There is great synergy for us in this acquisition." LMS offers a software platform to model, simulate and test vehicles, aircraft, and other complex products optimizing their acoustics, vibrations, oscillations, fatigue strength, and dynamics.
Privately held LMS International is based in Leuven, Belgium. Revenues for the first nine months of 2012 were approximately €140 million ($179 million). The company has more than 1,200 employees and has around 5,000 customer companies in automotive, aerospace, and other industries. Siemens is paying approximately €680 million ($871 million). Both companies expect the acquisition to close in early January 2013.
Grindstaff says many LMS customers use the V5 platform from Dassault Systemes; "This is a little unusual for us, but we are committed to openness." LMS says all of the Fortune 500 automotive and aerospace manufacturers and their tier-one-suppliers are customers.
Our take
The technology fit seems straight forward. Siemens has a strong portfolio in pre- and post-processing and multi-physics simulation, but did not have a tie to testing physical devices. LMS gives Siemens PLM a more complete offering, now that issues like acoustics, vibrations, oscillations, fatigue strength, and dynamics can be tested both in a virtual simulation and in a physical testing lab.
Siemens has enough customers already using Catia and other V5 technology that it describes the revenue as "material." More LMS customers use Dassault software than Siemens PLM today; acquiring a software line popular with these users should only help Siemens PLM further penetrate this market segment.