More 8,000 users in 350 companies have become regular users of the cloud-based service. Most are using it to replace Microsoft Office for product lifecycle management tasks.
This week Autodesk released the results of an informal survey of users of its new product lifecycle management (PLM) product Autodesk PLM 360. Although they should be considered anecdotal in nature, the results offer the first insights into the potential market for the product.
Since launch in February more than 350 companies have started paying for the service, using it in "real production environments," says Richard Blatcher, an Autodesk senior industry marketing manager. There are more than 8,000 active users, and more than 2.2 million items are being managed in the cloud-based PLM environment.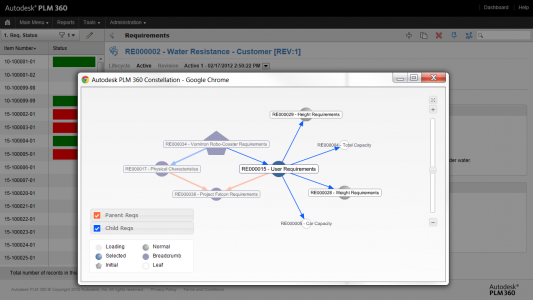 For years Autodesk mocked the idea of selling PLM software, saying it was a solution in search of a problem, or that only PLM vendors had a PLM problem. But the mocking went quiet about three years ago. Last November at Autodesk University the company unveiled its plans for what is now called PLM 360, saying both the marketplace and the technology were ready for an "Autodesk approach" to product lifecycle management.
According to Autodesk's survey, cloud-based PLM services were at the top of the list of attractions; 69% of respondents said they chose PLM 360 specifically because it was cloud-based. Comments on this question often noted that they wanted the any device, any place access a cloud-based system could supply.
One-third of respondents did not have a PLM system in place before buying PLM 360; almost all the rest (61%) said they had been using Microsoft Office as a substitute for PLM software.
56% of respondents said the simplified deployment was an important consideration. 33% said they are using 360 PLM because of specific company requirements to reduce staff and IT resources.
When asked the kinds of tasks they were doing with PLM 360, 56% said it was deployed for traditional engineering data management tasks such as bills of material (BOMs) and manufacturing BOMs.  61% also cited document management as a key use for the product. Blatcher says as users found out they could store references to documents in the cloud and leave the actual documents behind a firewall, it increased use of PLM 360 for document management.
Our take
This anecdotal data is helpful, but only indirectly answers the question we really wanted to answer when PLM 360 launched; the ability of the apps that comprise the product. With 350 companies calling themselves active users, we have to assume the utility is considered sufficient to continue its use.
Along with the survey results, Autodesk told press and analysts it how has more than 30 companies who have agreed to go public on their use of Autodesk PLM 360; most will be represented later this month at Autodesk University.
Related
Autodesk launches cloud-based PLM