With built-in links to YouTube and GrabCAD, and a new online community to replace online help, Siemens is making Solid Edge a leader in using social tools for design.
For the past five years updates to Solid Edge 3D CAD have mostly been about Synchronous Technology, the logic engine Siemens PLM uses to allow both parametrically constrained (history-based) and direct (history-free) modeling to exist side by side in both its mainstream Solid Edge and enterprise-class NX CAD products. But the update to Solid Edge presented this week at Solid Edge University 2013 in Cincinnati will probably be remembered more for bringing social media technology to CAD than for its expanded use of synchronous technology.
First a bit of background. Every CAD vendor includes the education community in its sales and marketing, but none pursue students as a constituency for product development research as fervently as Solid Edge. "We regularly bring in students who have never used a CAD product," says Bill McClure, the vice president in charge of Solid Edge product development. "We want to observe the golden hour, how a person uses the product for the first time." From these observational studies and from interviews, the Solid Edge development team realized it needed to jump into social media in a big way.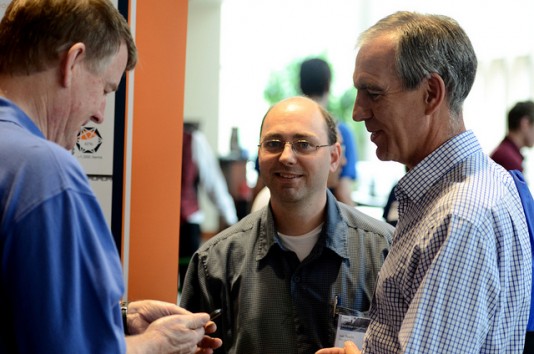 McClure, who has been a part of the Solid Edge development team since its founding at Intergraph in the 1990s, says their epiphany on the use of social media technology in CAD will manifest in three ways in this year's release. There will be a direct link to YouTube, a built-in connection to GrabCAD Workbench, and a completely new help system that builds upon the content already existing in the Solid Edge online community.
YouTube
More than once during "golden hour" exit interviews, a student said they found the answer to a problem by finding a YouTube video on the subject. "One girl was trying to model a spear as her first project," McClure explained. She was having trouble figuring out the right steps to take, so she searched on YouTube for a video that demonstrated what she needed to know. "I realized we needed to leverage this kind of access directly," McClure said.
Once the development group dug in, they recognized putting YouTube inside Solid Edge was easy, but the ramifications needed refinement. "We didn't want 'cat videos' or other stuff coming up inside our product," said McClure, so they added search filtering to "guide" the results. When a user opens the YouTube pop-up window in Solid Edge, a list of recent Solid Edge videos appears. The user can then either browse the list or search on specific topics.
The YouTube pop-up in Solid Edge also allows a user to create a Solid Edge video and upload it to YouTube. Only action on the screen is recorded; a computer's webcam is not involved. To create the video one defines either the entire screen or a bounding box as the extents for a recording, then chooses whether or not to add audio narration. When the video is complete it can be uploaded to the user's personal or corporate YouTube account; Siemens does not host the videos. Solid Edge adds relevant keywords to the video file so it will be recognized when searches are conducted inside Solid Edge. To ease the concerns of corporate users who restrict Internet use (yes, there are still companies doing that), there is a kill switch that disables the YouTube function inside Solid Edge.
GrabCAD and online community help
We've covered GrabCAD here before. As McClure put it, among a group of new web-based products for engineering "GrabCAD seems to have caught a wave." Originally only a site for designers and engineers to share files publically, GrabCAD has grown into a collaboration site with the introduction of Workbench. (See "GrabCAD Workbench cracks the door on open engineering.") When Solid Edge ST 6 ships in a few weeks, it will include a bi-directional link to Workbench. Anyone with access to a user's Workbench will be able to view any Solid Edge model or other content uploaded (such as an .AVI video), and to comment on it. The direct connection removes the need for trying to send files via email or FTP or requiring someone to have an account with a cloud file storage service like Dropbox. "When users have to move data to someone else, too often the file size is too much for email," said McClure. With cloud storage services, "there is the issue of access to the data. By using GrabCAD the data is viewable by anyone with an account, without having to download data."
McClure says Siemens sees the use of online communities as "another aspect of our embrace of social technology." The existing Solid Edge Community website will be expanded to become the primary delivery tool for product help information. In previous versions a Help command led to an internal reference section; now it opens a browser to the online community. "We tried to implement this inside Solid Edge but our testing showed having it inside the product was not a factor for use," said McClure. So we kept it separate. It was well tested with student testers."
Our take
Other CAD vendors may have considered similar moves, but the "not invented here" reflex runs deep. Putting direct links to products or services they have no direct control over would seem like madness to most software companies. But the team at Solid Edge is looking at things from a different perspective. Users will turn to YouTube for guidance or to GrabCAD for easy collaboration, so why not help them?
GrabCAD describes its mission as enabling open engineering. This is not open as in open source software, where intellectual property is freely shared, but open as in willing to work nicely with others by sharing securely and frequently. Siemens PLM is positioning Solid Edge going forward as the CAD tool for open product development.