Cinelab benefits from Thinkbox's high-end experience, yet is simple enough for beginners.
Thinkbox Software is ready for interest in the new Windows 8 tablets with Cinelab, a video-editing app designed for novice users.
The app takes advantage of the new Windows UI to offer a simple touch interface. Users can rearrange clips by moving them around on screen, tap them to play, and shorten the length by moving handles on a bar directly beneath the clip. Rearranged and trimmed clip sequences can be shared via SkyDrive and email.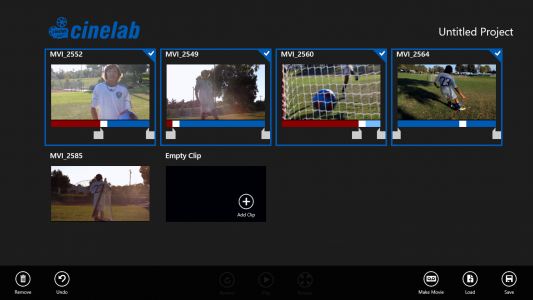 Thinkbox is the developer of the high-volume particle renderer Krakatoa, render farm management software Deadline, Frost particle mesher and other video and special effects editing and creation tools.
Thinkbox founder Chris Bond says he was inspired by the new Windows user interface to create an app that would appeal to all skill levels. "The development of Cinelab was something that came together quickly," says Bond. "We created a tool that we would want to use to edit with ourselves with enough built-in flexibility that professionals, amateurs and children would equally find approachable and useful."
A free version of Cinelab is available through the Windows Store, allowing users to edit and share videos; extended features are available via an upgrade through the Windows Store for $1.99.