Created with a single click, the new review site extends shot tracking to client review.
Shotgun Software has released an update adding a new, integrated Shotgun Client Review Site to its production management system. Shotgun says the toolset enables creative companies to share media with clients or anyone outside the studio "securely, with one click," through free, unlimited client accounts, to desktops or mobile devices.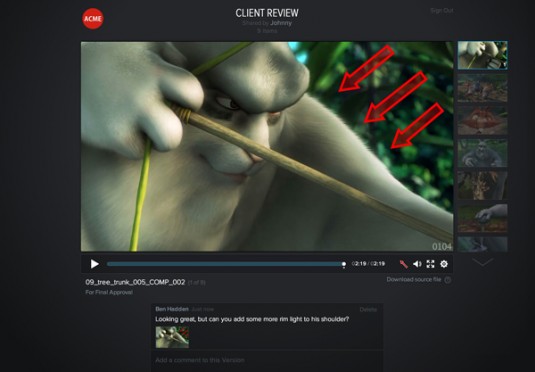 In daily use, media clips to be shared with a client are dropped into the Shotgun browser and added to a playlist. When "Share" is clicked, the playlist is published directly to a secure page on the studio's website designed specifically for client presentations. Work can be shared to as many clients as needed via unlimited free client accounts.
When a client receives an automatically generated email with a link to the playlist, they can view the shared content from any device. Reviewers can comment with notes or draw directly on the frames.
The studio is notified as soon as the client makes a comment. Client notes and annotated frames come back into Shotgun automatically, linked and addressed to the right people, with permission options in place for who can see them so feedback can be c
Also New in Shotgun 5.3:
Playlist Locking, which prevents unexpected changes to the playlist;
User Interface and performance tweaks
An updated frame/time remaining counter
An audio mute button
Progressive media loading and enhanced buffering for faster playback.
Shotgun 5.3 is available today as a free software update to all current Shotgun customers.