Both the asset management system and the viewer now run without initial user configuration.
Shotgun Software has updated its eponymous asset management software with a variety of new features and by including the previously separate RV asset viewer inside the primary product. Shotgun is a cloud-based production tracking, review and asset management software platform for film, TV and games development.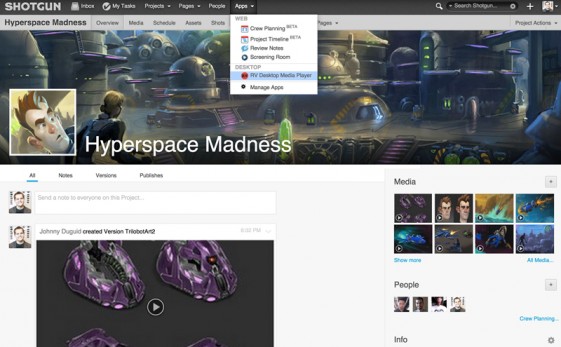 New Features in Shotgun 6 include:
RV in Shotgun: Download, install and start using the RV asset viewer with an existing Shotgun login. No extra fees, no need for a separate license, and accessible in a single click with no configuration.
New Project Templates: Templates make it easier to manage different workflows for different projects, such as films, episodic TV series, or games.
Enhanced Navigation and Browsing: Choose how to organize items to be tracked (i.e. Shots by Sequence, or Asset by Type), then navigate between them using Shotgun's new navigation widget.
Improved Flame Integration: Transfer content from Autodesk Flame into Shotgun faster and more reliably.
Updated Loader: Artists can now find and load files faster directly from inside of their creative tools, such as Maya, 3ds Max, and Nuke, using the new list view in the Toolkit Loader app.
New in RV 6:
Shotgun Login: A new licensing option allows users to access RV using their Shotgun username and password.
Built-in RVX Functionality: RV now includes features previously only available in RVX such as the ability to author image-processing operations—everything from simple color transforms to multi-input compositions and editorial transitions.
Export using RVIO: Users can now export movies or frame sequences with RVIO while running RV; no need for a separate RVIO license.
Shotgun Software is an Autodesk company. It claims more than 600 companies as users, including major studios and game developers DreamWorks, Framestore, Blizzard, Microsoft, Walt Disney, Double Negative and Ubisoft.