Bentley Systems reports an 8% increase in revenue to $593 million in 2013; increases family and employee ownership to 98%. 
Bentley Systems, a private company, announced its 2013 annual results in a call to press and analysts on April 16. The company has made a practice of annual reporting even though it is private and not required to do so. As such, of course, it can report what data it deems most useful. Bentley uses its annual report to focus on important accomplishments during the year, including acquisitions, new products, and to present Bentley's view of emerging trends.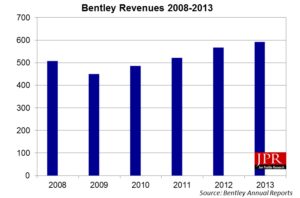 In fact, the company is more private than ever. During a phone call detailing the results, Greg Bentley noted that the company has taken advantage of the dark days of the recession and has been buying up stock. So, in the past 5 years, Bentley ownership has gone from 58% of the company being owned by family and colleagues to 98%. That gives the company considerable freedom to build and invest the way they see fit. Bentley reports the company's revenue has grown to $593 million, an 8% increase over 2013. The company's R&D budget is at 25% of revenues.
CEO Greg Bentley says Bentley is leading the market in several key markets including:
Electric Power Generation;
Mining and Metals;
Electric Power Transmission, Distribution, and Communications;
Water and Wastewater distribution;
EPC (engineering procurement and construction) and AEC (architecture, engineering,and construction).
The company compares itself to Autodesk as its closest rival using Autodesk's fiscal year (Feb. 1, 2013 to Jan. 31, 2014). Bentley is a very respectable contender at nearly $600 million compared to Autodesk's AEC breakout which is just over $700 million. Greg Bentley notes Bentley's revenues grew faster in 2013 compared to Autodesk. However, it's worth noting Autodesk has been changing its revenue model and shifting to subscription, so while Bentley's point is accurate, the reality is a more nuanced.
More important, however is that the two companies are evolving quite differently and they are often in complementary situations. Greg Bentley enjoys tipping an ironic hat in Autodesk's direction, calling them a valued partner. He's not wrong as products from Autodesk and Bentley are frequently used together in large construction projects. Bentley also sees considerable competition from Hexagon Intergraph and it has increased its cooperation with Siemens and Trimble as the concept of BIM expands.
Bentley has had a strong base of subscription/maintenance customers and Bentley says subscriptions are now at three-fourths of company revenue. The company has also turned on a metered service that allows customers to use any tools they need throughout the terms of their contract, and Bentley charges them according to their use. Not only is this a comfortable way for customers to purchase when they have revenues that fluctuate with projects, but the system gives Bentley considerable insight into their clients behavior, buying patterns, and some ideas about future development.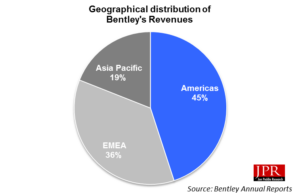 Some other shifts seen in the company over the last five years has been a growing percentage of income coming from outside the company's home base in the U.S. Greg Bentley says the company's expansion into world markets has given the company some cushion as some markets contracted, mostly notably the US during the early part of the recession and parts of Europe throughout the recession. Bentley Systems saw strong growth in 2013 in the BRICs countries, South Korea, Malaysia, Singapore, the Middle East and the UK.
The company is growing a great deal in the UK, more than just the numbers of contracts or revenue. As Bentley participates in the UK's enviable investment in its infrastructure, contractors like Bentley and UK government entities are advancing the use of BIM and creating standards. Greg Bentley sees the evolution as a series of levels that starts at zero, moves to creating better models, adding visualization and documentation in Level 1; moving to simulation in Level 2; and graduating to the ideal of immersion in Level 3. Immersion in this sense means a complete 3D vision of the system and 24/7 access to information. As an example, Greg Bentley talked about being able to know what's going on under the ground and being able to incorporate data from 3D scans and access that data via mobile devices.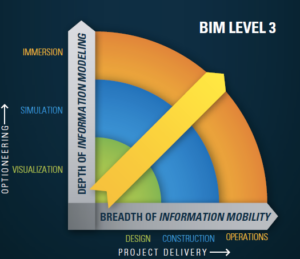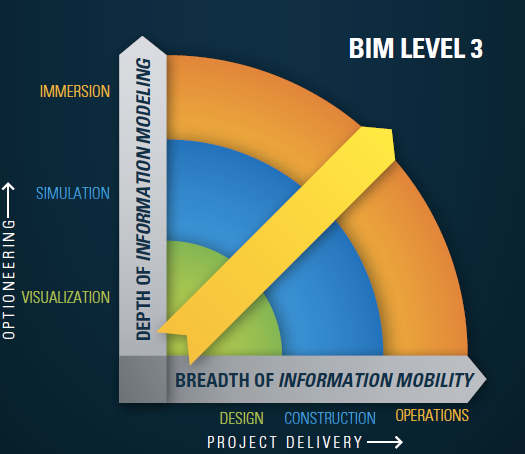 What do we think?
One of Bentley's major points is the industry has changed dramatically over the past five years. The AEC and Infrastructure industries have suffered as reduced revenues push projects to the back burner, but companies forced to streamline and retool have also become more efficient. Bentley's customer base has a high proportion of owner-operated projects. These companies have much more incentive to invest in better practices and information systems. The challenge is to push better practices and information management out to contractors and the people on the ground. Those people are the ones who will be walking around with smart phones and tablets to access visual models of their projects and the built world.