The advanced algorithms behind other ClearEdge products can save 50% of the time it takes to model as-built structural members.
ClearEdge3D today announces the launch of its newest software, EdgeWise Structure, which can quickly and accurately extract properly specified steel, concrete or wood structural members from laser scan point clouds. ClearEdge3D claims EdgeWise Structure can extract and model structural steel, concrete and wood members faster and more accurately from point cloud data than any other software on the market.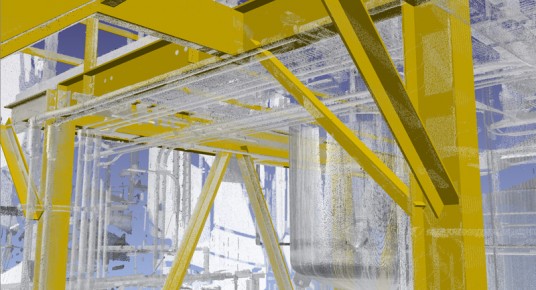 EdgeWise Structure is based on the same code base as other members of the EdgeWise product suite. It combines its ability to work rapidly with point cloud data—including its proprietary pattern matching algorithm—with a comprehensive structural catalog to model as-built steel and other structural types to proper specification.  ClearEdge3D says even if the structural members in a project have been fireproofed, EdgeWise Structure can still model the bare members.
The software utilizes a comprehensive catalog library with thousands of structural components from several different popular standards. When a user chooses a particular catalog, EdgeWise analyzes the point cloud, inserts the correctly specified structural member and logs the component in the parts list for final verification. Extracted structural members can be extruded, moved, resized, copied, and refitted using the software's editing tools.
Intelligent structural models created in EdgeWise can be brought into Revit as structural family objects, eliminating the need to remodel in Revit. This direct connection with Revit means key intelligence, such as family type, spec, neutral axis and length, is transferred along with the geometry and coordinates of the model. The EdgeWise models can also be exported to AutoCAD, Microstation and most other CAD platforms.
Keith McKinney, Principal with Piping Layout Consultants, Inc., was an early beta tester of the software. "EdgeWise Structure saved us 50% out of the box," he said. "We expect even more savings as we fully integrate it into our workflow. The QC and editing tools are robust and the spec catalog is extensive. It makes modeling structure much easier."
EdgeWise Structure can be purchased separately or as part of the company's BIM Suite and Plant Suite product groups.
What do we think?
We have been following ClearEdge3D for several years. The major AEC software vendors have courted them, but for now Chief Scientist Kevin Williams and the team have decided to stay independent and support all major platforms. Their special methods for working with point cloud data really do buzz through as-built scans much faster than competing solutions. We have to wonder how much longer they can ignore the big payday of being acquired.