Now that customers are using the complete line of Shotgun products as a subscription suite, the next step was to standardize the look and feel, and to add more tools.
Shotgun Software has become one of the leading vendors in the nascent VFX game and video studio asset management space for several reasons, with fast response to customer input is one of them. Two months after bundling their set of VFX products for production tracking, scheduling, review, and approval into one bundle under the name of flagship product Shotgun, the company has overhauled the user interface (UI) and added a few more tools for both artists and supervisors. The subscription terms stay the same, at $49.00 per seat, per month.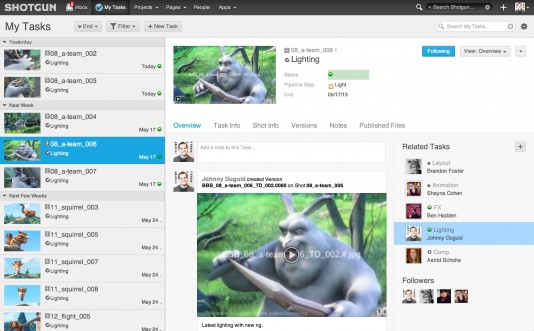 New features:
My Tasks: A simple view of an artist's tasks with key project information and updates presented in a news feed format. My Tasks also displays who else is actively working with the artist at any given time, helping to break down the walls that divide artists who often work in isolation whether co-located or at remote locations.
Inbox: A visual collection of notes and important updates related to each artist's work. Artists can customize their inbox by choosing to follow progress of specific project shots or assets that are important to them, filtering out updates not relevant to their tasks.
Global Search: Search for anything in any project and receive an immediate, curated list of results in news feed layout.
Shotgun Software was founded in 2006 by a group of visual effects professionals to build production tracking, review and asset management solutions for modern digital studio pipelines. The founding members worked together on a major studio animated feature and then banded together to develop tools for the industry at large. Shotgun counts among its 400 customers industry studios including EA, Blue Sky, Double Negative, Framestore, Method, Pixomondo, Playstation, Blizzard and Zoic Studios.
Our take
Previous versions of the Shotgun line looked too much like an old product data management interface for engineering, not software digital artists would embrace. The new look is refreshing and welcome.
Related