ShareCG Announces the winners of the "Get Reel" challenge. Fifty demo reels were submitted for consideration.
As the name suggests, the ShareCG site is a resource for digital artists and animators to showcase their work. The site's publisher David Heller and his team have created a very active community, which is sharing great digital content. Heller says he's been delighted with the quality of work on the site and also the generosity of the community. For example,the site features high quality tutorials and tips contributed by artists willing to donate their time and skills . A casual visit to ShareCG.com can well result in lots of lost minutes because there's so much to explore as the work of one interesting artist after another presents itself for a look.  The site is also a portal for artists working in Daz Studio and Poser. These tools are becoming important training grounds for people who want to learn the art of 3D modeling and CG and for people who just love to create. The denizens of the site range from students, interested amateurs, and working professionals.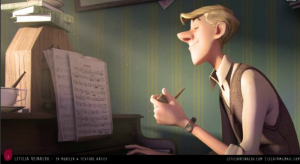 The site has regular contests to encourage artists to promote their work. The latest is a "Get Reel Challenge" that asked CG artists to submit their demo reels – just the thing to get  busy artists to update their demo reel. Fifty demo reels were submitted by artists, and it's utterly impossible to imagine how judges managed to sort through so much  of high quality content and make choices, but make choices they did. Have a look at work from all the entrants on the CGShare site, there is quite a bit of really interesting stuff on display.
The four winners are:
First place: Leticia Renaldo wins a full license of Maxon's Cinema 4D Studio for her 2013 Demo Reel created as a Gnomon student.  One impressive part of her reel shows how she creatively transposed flat 2D animation art, created by Disney Studios before CG, into extremely accurate and detailed 3D models ready for rigging or placing into a new 3D version of the original Disney film.
Second Place: Daniel Lindsey wins HP's  Z24i professional-class display. His reel demonstrates his  proficiency across a wide range of skills including rigging, scripting, environment, simulation, modeling, texturing and more.  This reel shows off Lindsey's work for Rhythm and Hues and also for Brainzoo.
Third Place: Stefan Mayr wins training and resources from Digital-Tutors. His Demo Reel includes work for Bachelor thesis, as well as professional and personal work. Heller describes Stefan as the ultimate CG Generalist. It shows a wide range of work for multiple genres and mediums including film, to art, to commercial.
Fourth Place: Steve Beauchamp wins 4th place and a license for Luxion KeyShot 4. French CG artist and animator Beauchamp has some cool visualization work for advertisement. He's also done a lot with particle generation and generative modeling. See his reel.
As you might expect, the best work on ShareCG tends to come from professionals, but what's also notable is that experienced artists do a lot of self promotion. It's not enough to have talent. If you want to work, it's important to let other people know you have talent. Sites like ShareCG can open doors.