Enhancements to Frost particle/fluid simulation include support for V-Ray.
Thinkbox Software has released an update to Frost MX, its plug-in tool for meshing particles and fluid simulations in Autodesk 3ds Max. Key features of this update include faster performance, integration with V-Ray, and workflow improvements. Thinkbox says the changes in Frost MX 2.0 will double performance for most users.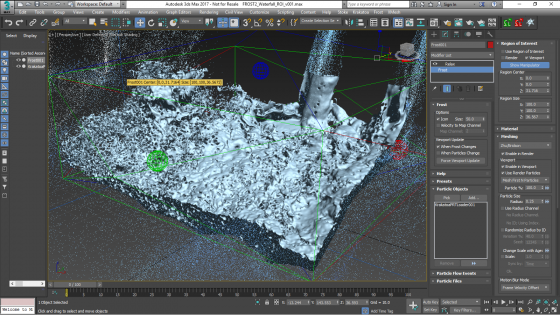 Thinkbox says the new integration with Chaos Group V-Ray for 3ds Max v3.1 and higher enables customizable particle scattering for distributing and rendering millions of mesh instances in Custom Geometry meshing mode. The new V-Ray Instancing mode leverages dynamic memory allocation, allowing it to render millions of high-resolution meshes with very low memory overhead.
Frost MX 2.0 continues to support all Custom Geometry features in V-Ray Instancing mode, including particle channel propagation, material and shape ID controls, animation timing offsets and motion blur from particle velocity.
"By stripping away much of the computational burden traditionally associated with data-heavy particle meshes and fluid simulations, we a?re enabling artists to work more dynamically and see their work come to life more quickly,"? said Chris Bond, founder, Thinkbox Software.