Thinkbox Sequoia now commercially available after lengthy beta cycle.
Austin, Texas-based Lanmar Services has found new work saving clients time and money by using laser scanning to record and translate 3D structural data from existing buildings into functional, precise 2D CAD or 3D building information models (BIM). They use Sequoia, point cloud meshing software recently released by Thinkbox Software after a lengthy beta testing cycle.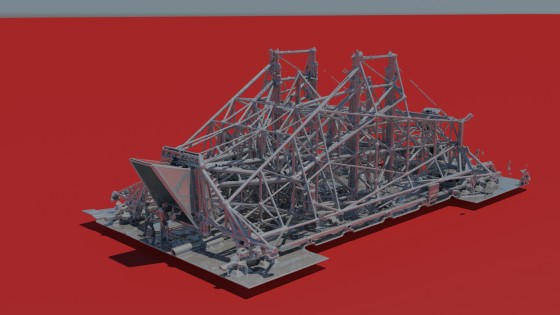 With 360-degree views and the ability to document 250,000 points per second, laser scanners offer a more efficient and accurate measurement method than traditional surveying, and can easily document dangerous or hard-to-reach areas without risk. But CAD and other modeling software either don't read the 3D point clouds data files created by these scanners directly, or their ability to do so is limited.
Lanmar CTO and Lead Modeler Larry Kleinkemper began testing Sequoia while it was in beta, putting it to work on a project for NASA documenting buildings from the space shuttle program for historical reference. Kleinkemper and his team were tasked with creating detailed notes on each building?s function, along with its interior and exterior appearance. Kleinkemper says using Sequoia proved to be a significant time saver, streamlining the conversion of 3D scan data to geometry across the board. In modeling a building that housed a complex sled system designed to test different landing struts and gears, Kleinkemper was able to shape a perfect visualization using Sequoia in less than five hours, including clean up—a process that took approximately 41 hours prior to adopting Sequoia.
"?Sequoia was amazing at handling this complex structure that had pipes crisscrossing and jutting out in every direction," says Kleinkemper. "It significantly reduced the time it takes to get a model out of a point cloud." He says Sequoia also handled overhangs with no problem; "They are too complicated with other auto-extraction programs and we have no choice but to go in and model them manually."
Stand-alone point cloud processing
Sequoia is recently released as a commercial product, but it has been in development almost from day one at Thinkbox Software, founded in 2010. It is a stand-alone application for Point cloud processing and meshing. Key features include:
Asynchronous:

Sequoia

handles user interaction and data processing asynchronously to ensure interactivity even during heavy calculations.

Multi-Threaded:

Designed from the ground up to take advantage of modern multi-processor systems.

Multi-Document:

Sequoia uses can work on multiple documents at the same time, even side-by-side.

Auto-Caching: Data (like the results of a meshing calculation) is cached automatically and can be accessed at a later point if the same parameters are specified by the user without additional processing.

Out-Of-Core: Data processing can be performed successfully even if the system memory does not allow all data to be loaded at once.
Integrating Sequoia into the workflow
Based on the success of the NASA project, Kleinkemper has since integrated Sequoia into his standard workflow at Lanmar. He uses 3D scanner data and extracts geometry within Sequoia or ClearEdge 3D Edgewise, and then sends the geometry to Autodesk Revit or AutoCAD for modeling and often also to Autodesk 3ds Max for rendering and animation. He has found Sequoia to be particularly useful for tackling challenging architectural details, such as onion domes or entryway lion sculptures.
?Specialty shapes are no match for Sequoia,? says Kleinkemper. ?"If we didn'?t have the software, we'?d spend hours or even weeks modeling those elements manually. We?'ve been blown away by Sequoia so far and definitely plan to continue expanding its role here at Lanmar.?"
What do we think?
Thinkbox Software is a relative newcomer on the software scene. It was founded in 2010 by congenial brainiac Chris Bond, who still serves as lead demo jock at trade shows. Until the release of Sequoia Thinkbox products were mostly used in media and entertainment. Sequoia was originally designed with Hollywood sets in mind, but Bond knew from the beginning there was a much larger market in need of what he was creating with Sequoia. In 2014 I talked to a VP at a leading AEC software company who said they were keeping a close watch on Sequoia. Since then both Autodesk and Bentley Systems have make acquisitions to improve their capabilities in using 3D point cloud data.
When large companies like Autodesk or Bentley acquire software, they make it work best with their existing products. There will always be a market for independently created tools like Sequoia, especially when they develop a reputation for excellence on the very hardest details.