Delcam software allows urgent cases to be delivered in as little as one hour instead of a three-day wait.
Custom orthotic insole maker Salts Techstep has used CAD/CAM automation to dramatically increase the number of devices it can produce. In the past five years, production volume increased from around 50 pairs per month up to more than 1,000 pairs. Other benefits include a reduction in delivery time from a minimum of 72 hours using the previous manual methods to as little as an hour for urgent cases using the digital approach.  In addition, Salts Techstep no longer has to store fragile plaster casts taken from the patients; instead, it keeps a digital record of the scanned foot data indefinitely.  This saves a large amount of valuable space, as well as enabling a better service to patients requiring long-term treatments.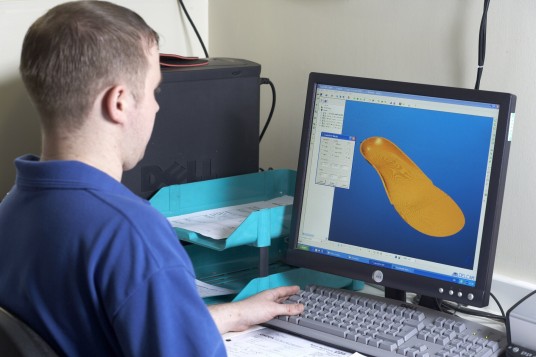 Salts Techstep is part of the Salts Healthcare Group, one of the longest-established family businesses in the UK with a history stretching back over 300 years.  The Birmingham-based company is a UK leader in the design and manufacture of custom-made footwear and appliances.  As well as the large range of insoles, its products include surgical footwear, orthopedic shoes and sandals, special shoes for patients with diabetes and rheumatism, and pediatric school shoes and boots.
Phil Wells, technical support manager at Salts Techstep, was an early enthusiast for the use of CAD in the orthotics business.  He started by customising two Delcam products, PowerSHAPE for design and PowerMILL for machining.  Delcam later came to Wells for advice when they assembled a panel of experts to guide the development of its dedicated OrthoModel software for orthotics design.
To best take advantage of the software, Wells has built up a variety of machine tools to optimize productivity, including making a series of dedicated jigs for the standard-sized blocks of material and adding vacuum beds to the machines to simplify and speed up the loading of the blocks. He also spent considerable time experimenting with different tooling before finding cutters that could run for up to twelve months without needing to be replaced.
The latest addition to the equipment at Salts Techstep has been Delcam's iQube scanner. Wells describes the iQube as "the best foot scanner I have ever seen." He is encouraging his customers to add their own scanners so that they can email the scans to Salts Techstep for the design and manufacture of the required orthotics. Alternatively, podiatrists can add the Delcam design software and then send their completed designs into the company for manufacturing.
The move to Delcam's digital production methods has also enabled other developments in the production of the orthotics.  The finer finish that is possible with milling means the top cover needed for hand-made orthotics can often be eliminated, further reducing costs and saving more time.
Computer-guided milling has also allowed a wider range of materials to be used, enabling a greater variety of properties to be incorporated into the orthotics.  Initially, polyurethane materials were used alongside the usual EVA.  Although they are around 20% more expensive, PU materials are more durable, lasting up to five times longer, and so can be more cost-effective.  In addition, different grades of PU can be used in a single orthotic to give different properties in different regions of the device.
Wells has also experimented with polypropylene orthotics, including the first production of standard Root-style devices using CAD/CAM methods. The material is more durable than PU and is also more rigid, which can be important for some treatments and for some sports orthotics.