Lagoa MultiOptics is an unbiased physical rendering solution that allows multiple users to share real-time rendering and viewing.
When we first reported on Lagoa in GraphicSpeak back in 2010, the essentially one-man company had just licensed multi-physics simulation technology to Autodesk for use inside Softimage. The Lagoa framework helps animators create realistic simulations of the dynamic behavior of liquids, cloth, foam, plastic deformations and soft body collisions.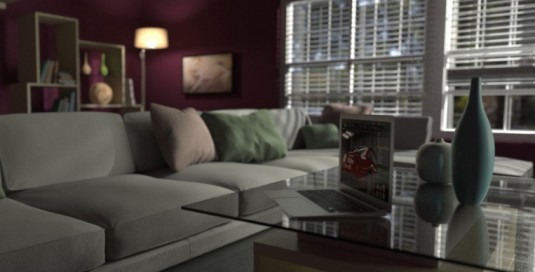 After closing the deal with Autodesk, Lagoa founder Thiago Costa reflected on the "enormous amount of work it takes to get tools into users hands" and started thinking about a new product. The result, now available online, is Lagoa MultiOptics, a cloud back-end rendering technology built as a browser-based collaboration platform. The market is creatives in engineering, product development, architecture, interior design, and media/entertainment. Lagoa MultiOptics allows several uses, working from any Internet-connected device with a browser, to compose, layout, and interactively render high-quality 3D.
We participated in a cross-country MultiOptics session with Costa and his co-founders Arno Zinke and Dov Amihod. On our end was a 1 ghz deskside workstation on a 2 mbps Internet connection; Costa was running a MacBook Air. We were also connected using Skype, adding more traffic to the Internet stream between us. The models we examined would render as fast as either of us could move them or change a setting. The models and background appears as realistic as any rendering produced elsewhere, but this was happening in real-time, not as the result of sending a model off to a dedicated computer or a send-and-retrieve cloud solution. It was easy to see how a team could comment and explore product options; the application includes real-time chat, simultaneous scene editing, render updates, and history tracking.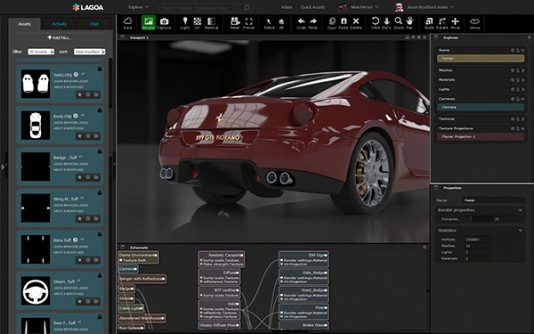 The technology
Lagoa MultiOptics is a new proprietary unbiased physically based renderer. It is designed to accurately simulate the light interactions between multiple optical properties as found in real-world materials. The technology relies on the use of measured materials, a library of measured optical qualities gathered in a lab. Lagoa will examine and add custom materials to the library for clients.
The renderer resides in a cloud server, available to users on demand. The software can engage as many processors as needed to render the job in real-time, making MultiOptics a platform for simultaneous use by many; no single user's computer is bogged down running the simulation.
For now the service is free for low-volume work, providing 5 rendering hours, 1 gigabyte of cloud storage and unlimited viewing. For users ready to take full advantage of MultiOptics there are paid service levels, including a "powerhouse" level at $123 per month for 250 gigabytes storage, 375 rendering hours and 25 private projects.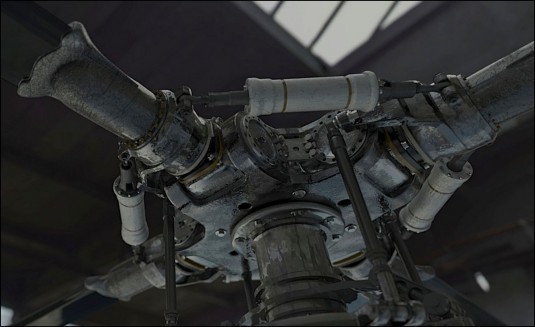 Lagoa is the first to turn realistic rendering into a collaborative tool, and the people with money to invest have noticed. Lagoa this week announced a $1.6 million round of seed funding from venture capital firms and angels, including Atlas Ventures, Real Ventures, and RHO Ventures. Initial customers are skewing to the luxury good industry, where time to market is a key motivator.
Our take
Real-time collaboration is the next frontier in 3D CAD. Until now the complex models required dedicated hardware and a linear workflow. Combining rendering with collaboration should take off quickly as disperse teams discover exactly how fast they can make product, room, or scene decisions, tasks which previously required review rounds instead of a single collaborative session.
Other new vendors come to mind when considering cloud and 3D models, including GrabCAD, Sunglass, and possibly Belmont Technology; all have received millions in venture capital funding in the past year or so. The existing leaders in 3D CAD need to offer this technology, but seem to be like most of their users, stuck in a linear iterative workflow.
Related
Luxology and Softimage add Bullet to their arsenal
Autodesk adds Lagoa multiphysics to Softimage creation suites