VNIPIET will use V6 software for ongoing research as well as construction design and management.
[Editor's Note: Several project images follow.]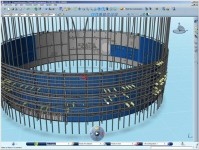 The Russian Research and Design Institute for Energy and Technologies (in Russian abbreviated as VNIPIET) has deployed Dassault Systèmes V6 products to create an PLM construction system. VNIPIET plans to use Dassault products to optimize nuclear power plant construction processes to improve collaboration and to better integrate engineering documentation into existing processes.
VNIPIET is widely considered to be Russia's leading enterprise in the nuclear industry. It is a multi-field organization with a wide portfolio in R&D and construction for nuclear technologies, atomic industry facilities, energy, and the nuclear-arms complex. The Institute is conducting R&D in the field of creating new energy and radio-chemical manufacturing as well as special-purpose facilities, takes part in modernization of the operating factories, stands, and atomic power stations; dealing with the problems of decommissioning nuclear facilities; working out modes and methods of treating radioactive residues, including full isolation from the environment and rehabilitation of contaminated and polluted areas; and conducts research to create shipping packaging sets and atomic power plant control systems.
VNIPIET decided to modernize its information systems, and chose to standardize on Dassault Systemes software after a pilot project. Catia V6 was used to create a nuclear power unit infrastructure in 3D; Delmia V6 to optimize building and construction efforts; Enovia V6 to create a project data management system; and 3Dvia Composer to visually communicate project details. The use of 3D Via Composer allowed stakeholders to explore the design's BOM (Bill of Materials), take measurements, and create cross sections, all in 3D.
The successful implementation enabled the institute to create the complex design of nuclear and turbine frames for the Leningrad Nuclear Power Station #2, simulate specific processes such as large scale cargo transportation, loading and building lot use, the mounting of the fusion isolator, mounting pressure cover units of the nuclear island, as well as to create an integrated record of enterprise documentation.
Igor Smirnov, director general of VNIPIET, was pleased with the outcome. "A project of this scope is very complex and the construction industry has very little experience deploying information systems of this magnitude. Happily, our experts were able to successfully collaborate with Dassault Systèmes personnel and leverage numerous PLM implementation best practices in construction and other industries where DS has primary leadership experience. We will definitely need some time to adjust and streamline all the processes for our own construction industry, but the essential part of the project has been successfully completed and we are quite satisfied with the results."