The partnership will expand Nearabl's indoor navigation technology and bring visualization capabilities to iTwin users.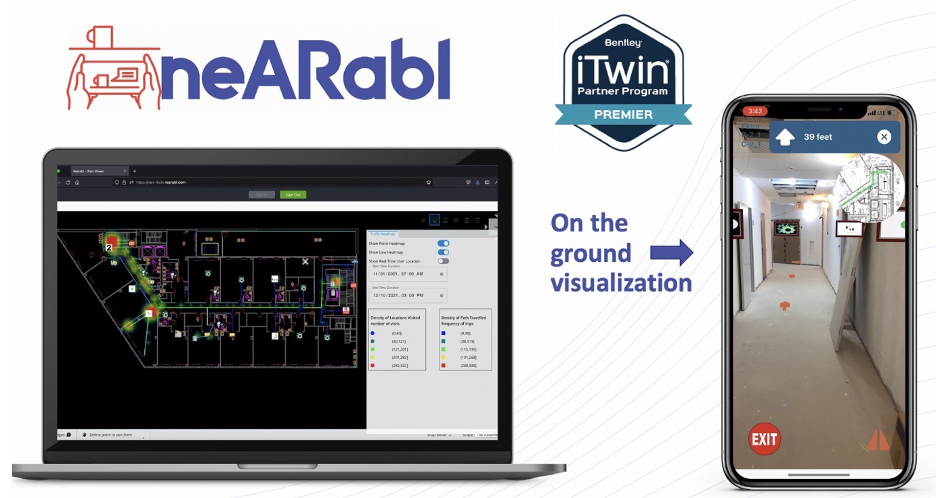 Nearabl, a New York City start-up and a recently named Bentley Systems iTwin Premier Partner, is bringing its augmented reality app used to view accurate digital indoor maps and more to Bentley's iTwin platform, extending its reach and capabilities within the global infrastructure, construction, and design industries. Nearabl's offering integrates well with the open iTwin platform—as iTwin users begin their construction phase, they can visualize their work order content using Nearabl's visualization technology.
Nearabl's AR app visualizes what a building will look like before users ever make it inside. Nearabl uses their drones and IoT sensors to track what a building looks like and all changes that are being made, enabling users to then visualize their digital twin on the smartphones and tablets. Nearabl originally launched its offering as a mobile-first application, but the fledgling company discovered that its users were more at ease editing the mobile content on an iTwin desktop/Web interface.
This partnership is boon for iTwin users, enabling them to edit work orders based on iTwin data at the start of the construction stage of an infrastructure project, and visualize the content on-site using Nearabl's Augmented Reality iOS mobile application as digital signage. Additionally, the integration enables iTwin users to monitor real-time occupancy of the structure.
This navigation capability has a wide demographic—from digital tourists, to construction managers, and all the way to people with vision impairment. After a building is completed, people with disabilities such as poor eyesight can use their phone for wayfinding. Creating these digital twins makes other buildings more accessible for those with disabilities, and Nearabl's mission has evolved to create what it calls the metaverse of accessibility.
There's more to consider, here, too. Nearabl's navigation and AR visualization capabilities, combined with digital twin tech, provides an entry into a build-world metaverse, Bentley points out.
Bentley's iTwin platform is an open cloud platform that development teams can use to create digital twins of infrastructure that different teams can use. Developers create tools and applications that create and analyze digital twins of infrastructure assets; and construction managers can use these digital twins to streamline the design process and make pivotal decisions during the construction phase. Applications built on the iTwin platform allow users to add engineering data generated by various design tools into a living digital twin. Adding Nearabl's technology to the platform allows users to be constantly connected to the construction site without physically being there. As drones and IoT sensors keep a digital twin of the building constantly updated, every member of the construction team can keep track of real-world conditions.
"We are delighted to have Nearabl add their Nearabl iOS application to the Powered by iTwin program. In doing so, Nearabl joins the growing ecosystem of software developers enabling digital twin solutions with the Bentley iTwin platform," said Sheena Gaynes, Bentley's director of business development, iTwin Platform. "Nearabl is a great example of how building information modeling (BIM) and AR can be combined and visualized in a mobile app to improve the safety and productivity of construction teams."
What do we think?
Over half of all architects use BIM, and 89% want to use it within two to three years. BIM is changing how modern architecture, engineering, and construction (AEC) intersect with one another. By creating and managing a digital model, architects and construction managers have better visibility and decision-making, and the models can save costs based on the material information and more. Catching mistakes in BIM saves money and time down the line.
iTwin can become a true competitor in the BIM industry by offering living digital twins. Because these drones and sensors are constantly updating a building, the digital twin will offer real-time information. Nearabl is another example of metaverses and Web3 technology going far past entertainment. Extended reality (XR) has many use cases.  Developing technology for digital twins will help develop other uses of XR down the line.