The CAD/PLM vendor makes another acquisition in the Internet of Things. Customers are finally buying into Creo with gusto. 
By Randall S. Newton
PTC (Nasdaq: PTC) today reported third quarter results at the high end of its previous guidance, with revenue of $336.6 million, up 6.66% from the year-ago quarter. Growth was strong in its core CAD and PLM business, primarily due to interest in the 3.0 release of its Creo CAD software line.
Breaking down revenue in the quarter (ending June 30, 2014):
License revenue was $92.7 million, up 15% percent from 3Q13;
Service revenue was $70.1 million, down 3% from 3Q13;
Support revenue was $173.7 million, up 6.8% from a year ago.
The decline in service revenue is part of a long-term trend as PTC moves much of that business to partners.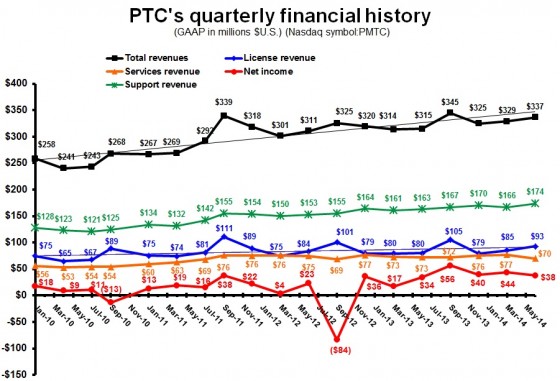 Net income for the quarter was $38 million, up 10.3%. PTC stock was down 1% to 37.64 in trading shortly after the company reported results.
PTC reported 33 large deals (recognized revenue of more than $1 million) in the quarter, the same as in 3Q13. This quarter's large deals were "heavily skewed" toward license revenue. In comments to Wall Street analysts, CEO James Heppelmann said the macroeconomic environment of the quarter was healthier than a year ago. PTC and Dassault (who also reported today) both are reporting concerns about China; as Heppelmann said, "China isn't buying from anybody right now."
Revenue by regions:
Americas revenue was $130.4 million, essentially flat from 3Q13;
Europe revenue was $130.7 million, up 13.7% from 3Q13;
Asia/Pacific revenue was $75.6 million, up 7.8% from 3Q13.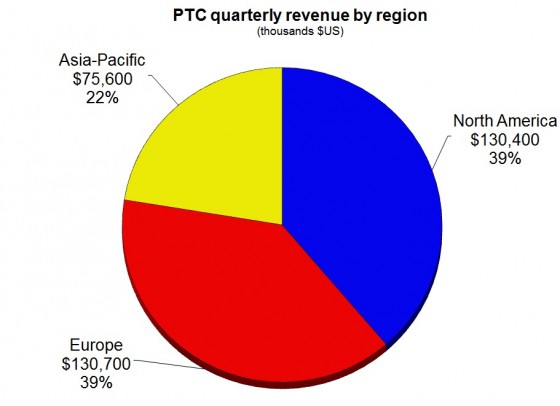 Revenue by product lines:
CAD license revenue was $149.1 million, up 10.1%
Extended PLM license revenue was $145.9 million, up 3.8%
Service Lifecycle (SLM) license revenue was $41.8 million, up 5%.
Q3 revenue contribution from acquired businesses Enigma (acquired on July 11, 2013), NetIDEAS (acquired on September 5, 2013), and ThingWorx (acquired on December 30, 2013) was $3 million.
During the conference call with Wall Street analysts, PTC announced its latest acquisition, Axeda, a specialist in Internet of Things (IoT) software. Heppelmann said the acquisition will provide most of the additional hires PTC needed following its acquisition of ThingWorx in December 2013. Axeda's strengths are in IoT connectivity and device management; ThingWorx brought rapid application development tools to PTC. "Axeda enhances PTC's connected service offering through its remote connected service lifecycle management and over-the-air software delivery solutions," the company noted in its prepared remarks.
What do we think?
Total revenue and new-license revenue rose above the trend line, and edged ahead of the 4th quarter of last year. This is an unusual spike for the 3rd fiscal quarter. We will have to see if the uptrend continues or if large orders that are normally billed in the fourth quarter actually got billed in Q3. Extended PLM sales look weak by comparison. Part of the difference can be explained by the recent release of Creo 3.0 CAD while Windchill PLM is in the middle of a release cycle. But all the traditional PLM vendors are reporting slowing PLM sales, except Siemens PLM which does not disclose that level of detail about revenue.
PTC sees itself as a new leader in IoT technology for manufacturers, a nascent market which seems to have strong appeal to the investment community, if the number of questions from analysts during the conference call is any indication. PTC is putting a lot of money into IoT, seeing it as the future of the company; only time will tell if a mature vendor can win major market share in this new market or if adoption of IoT technology will go to newcomers, as is often the case in software.
Five more of our exclusive charts follow; for larger versions visit our Facebook page.
L. Stephen Wolfe, P.E., a contributing analyst for Jon Peddie Research, provided research for this report.