Revenue from primary brands posted single-digit growth. Net income was down 18% due to aggressive acquisitions.  
By Randall S. Newton
Dassault Systèmes (Euronext Paris: DSY.PA) posted modest year-over-year growth in the second quarter, buoyed by revenue from new acquisitions and a big spike in services revenue.
Total revenue for the quarter (ending June 30, 2014) was €556.8 million ($749.7 million), up 7% (up 10% in constant currencies). Breaking revenue down:
€495.6 million ($667.2 million) was software revenue, up 4% from 2Q13 (up 7% in constant currencies);
€61.2 million ($82.4 million) was services revenue, up 29% year-over-year (up 33% in constant currencies).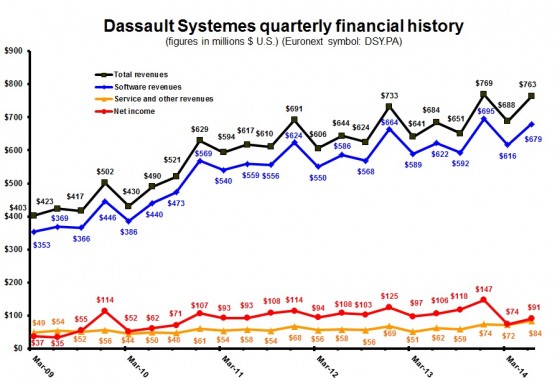 Net income in the quarter was €66.5 million ($89.5 million), down 18% from the second quarter of 2013. Dassault stock was up 4% in early trading after the report, to 66.62.
Revenue by regions in the second quarter:
Americas:  €156.9 million ($211.2 million), up 14% year-over-year in constant currencies;
Europe/Middle East: €259.2 ($349 million), up 13% year-over-year in constant currencies;
Asia/Pacific: €140.7 million ($189.4 million), flat year-over-year
Revenue by brand/product segment:
Catia: €216.8 million ($291.9 million), up 4% from 2Q13 but up 11% in constant currencies;
Enovia: €65.3 million ($87.9 million), up 1% from 2Q13;
SolidWorks: €107.8 million ($145.145 million), up 3% from 2Q13;
Other: €105.7 million ($142.3 million), up 9% from 2Q13.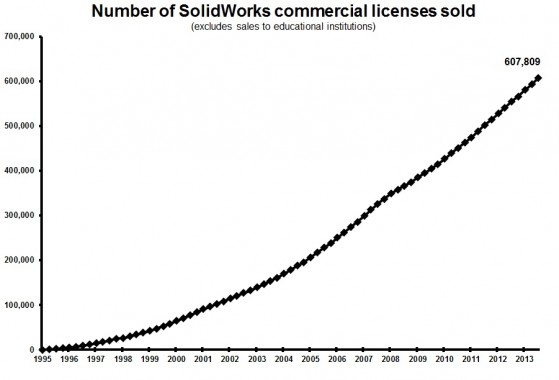 The company says Catia revenue growth was driven by transportation and high tech. The "Other" category includes the Simulia line of simulation tools, which Dassault says reported "double digits" percentage growth. Earlier this month Dassault acquired Simpack, a vendor of simulation software popular in automotive.
Dassault also reported six-month results, and included some details about software sales not in the single-quarter summary:
New licenses (all lines): €257.7 million ($347 million), up 5% from first half of 2013 (1H13);
Other software related revenue:  €4.1 million ($5.5 million), up 95% from 1H13;
Periodic licenses and maintenance: €683.4 million ($920.1 million), up 1% from 1H13;
Recurring portion of software revenue: 72% (was 73% in 1H13).
Comparing regions for the first half of 2014 to last year, Americas revenue was up 6%, Europe/Middle East revenue was up 10%, and Asia/Pacific revenue was down 3%. PTC also reported today; in comments to analysts both companies said China sales are down.
During the call to announce results, Dassault announced the acquisition of Quintiq, a vendor of on-premise and cloud supply chain and operations planning/optimization software. The purchase price was approximately  €250 million euros ($337 million). The company says Quintiq products will become part of their Delmia factory management suite.
What do we think?
PTC says Creo had a great quarter; Dassault says Catia had a great quarter. April-May-June has never been much of a quarter for CAD sales; perhaps manufacturers are finally getting long-overdue upgrades on their core CAD software.
Seven more of our custom charts follow. For larger versions, visit our Facebook page.
L. Stephen Wolfe, P.E., a contributing analyst for Jon Peddie Research, provided research and his usual legendary insights for this article.