Autodesk's Memento is part of the company's mission to change the way content is created and products get built. The company used Real 2015 to show off the latest version of Memento and offer it as a Beta.
The Autodesk Real 2015 conference was part science fair and part trade show. Autodesk showcased products from the companies working in the realm of digital reality. Exploring companies that are capturing real world data and using it to create digital content – sometimes exact replicas and sometimes completely new works of art. Autodesk had its own semi-announcements to make. It held a press conference to talk about its Memento product for processing point cloud data.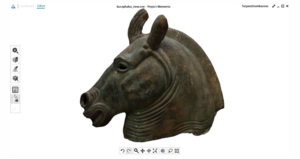 Autodesk's Memento has been a lab product and it has now graduated to its next step towards product-hood – it's being offered as a free Beta release for reality capture and processing. It is designed to be used with point clouds ands can handle huge amounts of data. The company says they've fed it over 400 million polys and it has not choked. Memento is being offered as a tool for people to experiment with building models from point clouds. Memento can take in point cloud data created with photos, image based modelers, from structured light scanners (at the moment it only supports Artec's Eva and Spider), and data from laser scans from processed by Autodesk's ReCap Pro. It creates a mesh and photographic texture for a realistic model. Models can be delivered as solid with wireframe, textured, and textured with wireframe mode. Memento is a hybrid product, which lives on the user's host computer – Windows for now – and sends data to the cloud for processing.
At Real 2015 Autodesk VP and IPG Group CTO Brian Matthews told the audience, "what's new, is how easy it is." Autodesk has added as much automation as it can to improve ease of use and performance, but Matthews would argue, it has also added as much intelligence as possible to ensure usable models are created almost automatically. Memento includes clean up tools and diagnostics to enable common large mesh issues such as particles, holes, spikes, and tunnels. Thus the model can then be sent to a 3D printer or used as a digital asset. Memento is a descendent of Autodesk's 123D Catch, which was released for the iOS platform a few years ago. That product was limited to how many pictures you could use to create a model.
Tatiana Dzambazova is an evangelist at Autodesk for reality capture and fabrication. She demonstrated the program telling the audience, "it's too easy for geeks." She notes that when the average person walks around an object taking pictures they don't realize they are accidentally gathering data from stuff they don't want: the background, parts of the object you don't want, etc. So, one of the simplest and first things Memento lets you do is select the object you really wanted to scan and cut away all the 3D trash you accidentally captured. Then more sophisticated tools can come in to play including re-topologizing tools, decimation, and the ability to isolate areas that may need extra cleanup.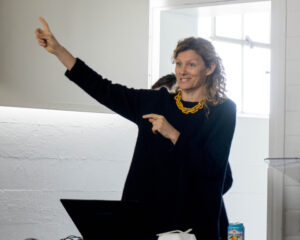 Dzambazova says there will be a Mac version because she is a great believer in the Mac platform and certainly for hobbyists the iPad and iPhone have provided the first capture medium for 3D point clouds.
Matthews said that the company is also going to be working on ways to combine data from laser scanners as well as from photogrammetry methods and structured light. Laser scanners can operate in dark places; it can be better for indoors scanning. Structured light might also work better in challenging light conditions. Sometimes, the best solution will be a combination of data – this was a common theme at Real 2015 as people talked about the future of reality capture.
What was interesting at the Real conference was that so much of the leading edge technology was practically free or very low cost. PrimseSense made an SDK free to developers for a couple of years before Apple bought the company, now Intel is offering its RealSense SDK, Google is offering the Project Tango SDK, and all this free stuff has inspired thousands of tinkerers. New mapping tools are coming out of the woodwork and so are AR and VR applications.
The difference between low cost tools and more expensive ones often has to do with size of the objects or the sites being captured or whether it is a professional use for for hobbyists. Autodesk's ReCap, for instance, is for large projects for professional engineering firms. There is a version available for $450 a month and there are other versions available with a subscription to Autodesk products or for free. One business model is for companies is that they may need the scanning software to accomplish a job but they would don't need it all the time – so they'll rent it.
Memento is not yet a product and the company is promising an update for ReCap Pro. It's pretty obvious pricing models and packaging are going to change. There are so many companies in this space and at Real 2015, Autodesk seemed much more interested in attracting developers to the space than it was staking out ownership of any territory. At Real we saw several products offering mapping and meshing capabilities. Some were ready to ship others were still in development. The technology seems to be democratizing over night. It's a competitive sea right now, and Autodesk is just one more swimmer in it. In the end, Autodesk might be happy that this technology will funnel more customers to its modeling and engineering products.